M A I N N E W S
Will thwart attack on Arunachal: Antony
Shubhadeep Choudhury
Tribune News Service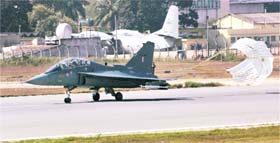 Bangalore, February 2
Defence Minister AK Antony today said the armed forces were ready to repulse any attack on Arunachal Pradesh from across the border.
The northeastern state, which saw a full-blown war between India and China in 1962, continues to remain at the centre of border dispute between the two nuclear-powered neighbours. Beijing has time and again not hesitated to stake a claim over the territory despite an overwhelming majority of Arunachalis strongly supporting its union with India.
Addressing a press conference at the Hindustan Aeronautics Limited (HAL) airfield here, the Defence Minister said the military preparedness was being strengthened across the country, including Arunachal Pradesh. "We want friendly relations with our neighbours. But in case of any eventuality, the armed forces were ready to act as an effective deterrent," Antony said.
The minister was there to witness a flying display by Tejas — an indigenous light combat aircraft (LCA) developed by the Aeronautical Development Establishment. Two aircraft — one a single-seater and the other a training variant with tandem seating arrangement — took to the skies, showcasing their prowess. While the trainer (prototype vehicle 5 or PV-5) confined itself to routine flying, the single-seater (limited series production 2 or LSP-2) performed some breathtaking aerobatics, including reverse flying. Antony said he was expecting the LCA to get initial operational clearance by the end of the year and final operational clearance by 2012.
The IAF had already placed orders for 20 Tejas LCAs, he said, adding that the Defence Acquisition Council had cleared a proposal for acquiring of 20 more LCAs.