Formation of New Team
State BJP chief summoned to Delhi
Jammu, February 7
As two stalwarts of the party are exerting pressure on him to accommodate their loyalists in the team, the newly elected state president of the BJP, Shamsher Singh Manhas, has deliberately been delaying the announcement of new office-bearers to evolve a consensus.
Fresh snowfall in valley
Srinagar, February 7
The heavy snowfall in Kashmir since Friday has cut off the entire valley from the rest of the country as the Srinagar-Jammu national highway remained closed for the second day today. There was fresh snowfall today which created slippery conditions on the highway.However, some of the stranded vehicles were allowed to move.
Arrangements for census reviewed
Jammu,February 7
Houselisting and Housing Census 2011 will be conducted in Jammu in two phases from May 15 in accessible or inaccessible (snow-bound) areas. Discussing the details with senior officers of the Census Department at a meeting convened here,Divisional Commissioner, Jammu, Pawan Kotwal, took stock of the preparations, particularly the involvement of other departments in the smooth conduct of the process.
Protests in Kashmir: Residents bear the brunt
Srinagar, February 7
For the past one week,residents of Kashmir have been bearing the brunt of the ongoing strike and violent protests which have paralysed normal life. Though some people have been protesting against the death of a boy, Zahid Farooq Shah, under mysterious circumstances, a majority prefer to stay indoors.
Four killed in accident
Jammu, February 7
Four persons,including two sons of a former state minister, were killed and one was injured when their vehicle fell into a gorge at Jharkhani on the outskirts of Udhamur this morning. The victims were going to attend a function of a Congress leader in Kathua.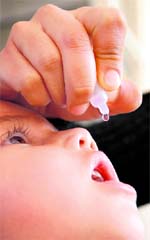 A health worker administers drops to a child during the pulse polio programme in Jammu on Sunday. A Tribune photograph
Workshop to introduce theatre in schools
Jammu, February 7
To introduce theatre in schools, a first-ever workshop, "Theatre-In-Education", in collaboration with the National School of Drama (NSD) was inaugurated at Natrang Theatre here today. The inaugural session was presided over by Moti Lal Kemmu, a senior playwright and theatre director. Natrang director Balwant Thakur, in his welcome address, said, "It was a long cherished dream of Natrang to have a workshop like this in Jammu. We are committed to introduce theatre in schools of the state and this workshop will go a long way in furtherance of our rarest initiative."
Compensation for farmers demanded
Jammu, February 7
Demanding compensation for farmers whose lands have been acquired by the authorities for widening of Roun-Ramnagar road, social activist RS Pathania today warned that if demands of affected families were not fulfilled, they would launch a mass movement.
JSM warns govt against 'neglect'
Jammu, February 7
The Jammu State Morcha (Progressive) today expressed concern over the alleged discriminatory attitude adopted by the state government towards the Jammu region. In a meeting held under the chairmanship of Prof Virender Gupta, morcha members resented the indifferent attitude adopted by the state government in the matter of recent selections and appointments of tehsildars, lectures, assistant engineers, assistant surgeons and in other appointments.
"End discrimination against Sunita"
Jammu, February 7
A meeting of the Nirbhow Nirvair Organisation (NNO) was held under the presidentship of Harjeet Singh here yesterday. The president of the organisation said the government was discriminating against Sunita, a resident of Kote Kuba of Kalakote, who had killed a militant on June 7, 2000.
Workshop on pulse polio ends
Jammu, February 7
A two-day workshop on pulse polio awareness organised by the NSS units of Government Gandhi Memorial Science College concluded here today. The workshop was conducted under the guidance of the programme officers of the NSS, Prof RK Sharma and Prof VK Chandan.
Session on effective parenting
Jammu, February 7
An interactive session on effective parenting was organised today by Banyan Tree School for parents, wherein Dr Aruna Broota, a well-known psychologist, briefed them about child psychology. According to a statement issued here, the purpose of interaction was to strengthen the relationship among parents, children and teachers, based on child psychology, as well as parents and teachers' psychological attitudes towards a child.
Hizbul militant held
Srinagar, February 7
The police today claimed to have arrested a Pakistan-trained militant of the Hizbul Mujahideen from Pulwama district. A senior police officer said Sajjad Ali, a resident of Wuyan village of Pulwama, was arrested following specific information about his presence in Awantipora.