Encyclopaedia a year's toil, says editor Shamim
Sushil Manav
Tribune News Service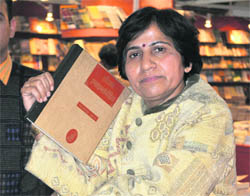 Sirsa, February 8
The Haryana Encyclopaedia, released by Chief Minister Bhupinder Singh Hooda at the World Book Fair in Delhi yesterday, is the result of a year's toil by several persons led by its editor Shamim Sharma.
Shamim, principal of Mata Harki Devi College for Women, Odhan, was a lecturer in Hindi in the Government Post-Graduate College, Hisar, when KK Khandelwal, then Director, Information and Public Relations, who conceived this project, approached her with the task.
Neelam Prabha, a librarian with FC College, Hisar, was the other person closely associated with the project as its associate editor.
"Though, the project took off on August 6, 2008, we practically got a year for the compilation and editing of the encyclopaedia comprising six volumes. The rest of the time was consumed in planning, printing and proof-reading," said Shamim in an interview.
The encyclopaedia comprises 10 parts of about 700 pages each with information on the historical, geographical, social, cultural, economical, industrial and agricultural aspects of Haryana.
"The first volume in two parts covers the geographical features, including flora and fauna, tourist attractions, rivers, mountains, soil, agriculture etc. The second volume is on the cultural heritage of the state and achievers from Ved Vyas to Olympian Vijender. The third volume is on history and the state's contribution to the freedom movement.
"The forth volume enumerates literary treasures from the Rigved, Upnishads and Purans to modern poetry and prose. The fifth volume is on modern Haryana with the highest per capita income in the country.
"The sixth volume is pictorial with contribution by famous lensmen like Yog Joy, Raghu Rai, Ashok Gupta, Ranbir Singh and OP Kadian," said Shamim.
As many as 250 writers, 500 educational institutions, 800 corporate and business houses, 150 departments and 2,500 individuals gathered information for this gigantic task, she added.