MC finally cracks whip on encroachers along heritage wall
Closes down 20 shops, removes encroachments on pavement along it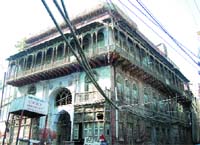 Amritsar, February 9
The Municipal Corporation eventually took notice of the violation of the sanctity of the heritage wall encompassing the old city and closed nearly 20 shops and removed encroachments along it, from Lohgarh Gate to Beri Gate, here today.



An old residential building near the Golden Temple in ward 25 area in Amritsar. Photo: Vishal Kumar
Ward 25
Unkempt three roads, encroachments and traffic chaos
Amritsar, February 9
Although the local Municipal Corporation is doing its bit to bring the heritage status to the holy city, it seems less bothered about the cleanliness and road infrastructure around the periphery of the Golden Temple.
Rise in accidents: Traffic signals need of the hour

Amritsar, February 9
Insufficient number of traffic signals in the city could be a major reason behind the sharp rise in number of road accidents in past couple of years.


Dangerous path: Traffic mounts at a crossing with signals in Amritsar. Photo: Vishal Kumar
'Laptop can lead to disk prolapse, wrist pain'
Amritsar, February 9
"Laptop is the main culprit for developing disk prolapse, backache and wrist pain. The reason is that it is generally placed on the lap and while working on it, people do not sit in correct posture as prescribed by medical experts," opined Dr Atul Kapoor.
Young World
DPS students hit gold in international tests
Amritsar, February 9
Three students of Delhi Public School secured gold medals in the International Assessment for Indian Schools, for which the tests were held last year. The students were Anirudh Khetarpal and Advaita Kapoor, both class fourth students and Tripan Kaur Randhawa from class tenth.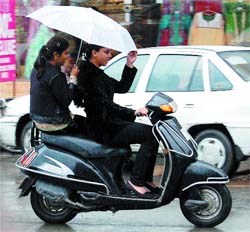 Girls enjoy a ride in rain in Amritsar. Photo: Vishal Kumar
Diaspora now dictates international economics and politics: Expert
Amritsar, February 9
The immigrant literature written particularly in Punjabi covers not only Indian thought but also international concerns, said former Vice-Chancellor, Guru Nanak Dev University, Dr S.P Singh in the inaugural session of the two-day national seminar on the 'Future of Immigration and Immigrant Punjabi Literature' which started here today.
2 of gang selling fake gold as Mughal antiquity nabbed
Amritsar, February 9
The Amritsar rural police have nabbed two youths, allegedly involved in selling fake gold bricks to innocent villagers in Ajnala, here today.
People To People Contact In India, Pak
Special permit scheme sought
Amritsar, February 9
Urging for easing visa restrictions for visiting India and Pakistan, especially for those born before Partition in India and Pakistan, Tarlochan Singh, member of the Rajya Sabha, sought to introduce special permit scheme.
This MLA loves acting
Amritsar, February 9
The Rajesh Khanna starrer "Aaj ka MLA", in early 80s, might have generated a lot of acclamation where the reel life barber becomes an MLA but this real life MLA has been gathering accolades for his role in films.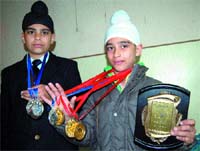 Brothers win overall trophy
Amritsar, February 9
This time if there was anything special during the games' competition held recently at Springdale Senior School, Fatehgarh Churian road, it was the performance of two brothers Ekamjot Singh and Gurkomal Singh.


Gurkomal Singh and Ekamjot Singh show their medals. Photo: Vishal Kumar