Soaring on skills
Punjab is basically an agrarian economy. But with the farm sector becoming exceedingly mechanised, the job avenues or the labour intensive model has become rather obsolete. With the government of India giving tax incentives to neighbouring hill states, new manufacturing units have ceased to come up in Punjab. This is eating into the employment generation avenues of the youth of Punjab. As a result, they are forced to move overseas for greener pastures. However, the sob story continues, as there is nothing great in store for them there as well.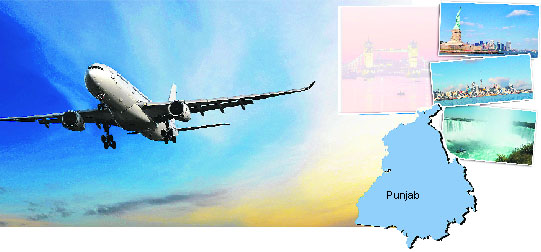 Career Hotline
Shooting success
Q. I have been very fascinated with shooting since I was a kid. How should I start my career in shooting? Where can I get training? Please give me some contacts?
The IFRS edge
The International Financial Reporting Standards (IFRS) have rapidly emerged as a globally accepted accounting framework. Many countries have started adopting IFRS across the globe and India will be converging with IFRS from April 2011 in a phased manner as committed by the ICAI.
Lapping up luxury
Priyanka Dogra gives a peep into career opportunities offered by the luxury retail market in India
Indian retail market is one of the fastest growing industries. Even after recession it has come out fast on recovery. Luxury retail market has been evolving in India and has got a stronghold over its target audience. With consumers for luxury goods more in numbers than the total adult population of several countries, luxury brands are setting up shops in India to tap the growing market. India has the largest number of millionaires in the world and that makes the purchasing power of the consumer here a major factor in the expansion of these luxury markets.
Foreign shores
Aussies revamp migration rules
The Australian government is reforming the permanent skilled migration programme to ensure it is more responsive to the needs of Australian industry and employers and better addresses the nation's future skill needs.


Careercature
Sandeep Joshi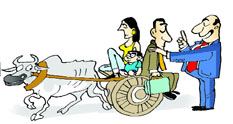 After joining our rural mission you will be protecting our planet from global warming by using this means of transportation.

Studying Abroad
New vistas
Visa restrictions enforced by the UK and security concerns in Australia have made countries like New Zealand and Denmark gear up to attract students,
writes Rakesh Kumar
With the ongoing racist attacks on Indians in Australia and the UK High Commission deciding not to acknowledge the student visa applications for a few months, mavens of the education industry feel it is time to administer caution while dealing with student visas.
Bored to death
You may blame it on circumstances, but boredom can kill you, say researchers. A team at University College London has carried out the study and found that people who complain of boredom are more likely to die young.
Happiness @ work
Gems of ancient wisdom
Be ready when history repeats itself
The New Year comes every year and so does the Budget. The Diwali boom and the Shraadh slump happen annually. If you have been into a job for some time, you can notice daily, weekly, monthly or yearly patterns. Once identified, make a 'sure event in the future' the right time to score over the competition.