M A I N N E W S
Rathore stabber gets police remand
Tribune News Service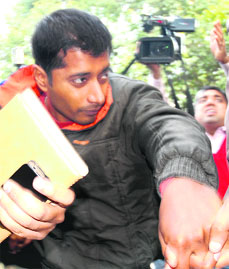 Utsav Sharma, who stabbed Haryana ex-DGP SPS Rathore, being produced in a Chandigarh court on Tuesday. Tribune photo: Pradeep Tewari

Chandigarh, February 9
Utsav Sharma, who attacked Haryana's former DGP SPS Rathore in front of the district courts here yesterday, was remanded in one-day police custody today.
While seeking a two-day remand, the public prosecutor contended that they needed to verify if there was any conspiracy behind the attack and if anyone else, too, was involved as Utsav was staying in Panchkula for the last one month.
Defence lawyer Harish Bhardwaj, however, opposed the two-day remand. He said there was no ground for remand as the police had enough of time to interrogate Utsav while the latter was in their custody for one full day yesterday. Also, the pocket knife used by Utsav during the attack had already been recovered and, therefore, there was no need for further police custody, he argued.
The matter came up for hearing in the court of Judicial Magistrate Paramjit Kaur, who finally decided to send Utsav to one-day police custody.
Notably, Utsav had stabbed Rathore on his face outside the district courts on Monday. He claimed he was unhappy with the six-month sentence announced to Rahtore in the Ruchika molestation and suicide case.
Meanwhile, Judicial Magistrate Paramjit Kaur, prior to taking up the matter today, asked all journalists to stay out of the courtroom. "Those who are not related to the case, including mediapersons, are directed to leave the court," she said.
Is a BHU gold medallist
Shahira Naim
Tribune News Service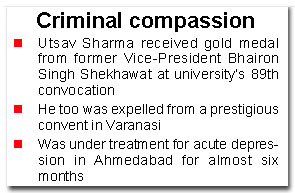 Lucknow, February 9
Twenty-nine years old Utsav Sharma, who was arrested in Chandigarh for stabbing Haryana's former DGP SPS Rathore, is a gold medallist in fine arts from Banaras Hindu University (BHU). Today his psychiatrist mother and engineer father --both professors at BHU -- left for Ahmedabad to collect his medical records.
Only son of former Head of Department of Psychiatry and senior psychiatrist professor Indira Sharma and professor of mechanical engineering at IT-BHU SK Sharma, Utsav had topped in Bachelor of Fine Arts from the university in 2006.
Former Vice President Bhairon Singh Shekhawat awarded him the gold medal at the 89th convocation of the university.
At present, Utsav is doing his PG in animation film making from the prestigious National Institute of Design in Ahmedabad. Sources close to the family said that he had last spoken to his parents on Sunday, but did not reveal where he was calling from and the parents assumed he was in Ahmedabad.
Under treatment for acute depression in Ahmedabad for almost six months now, he had last visited Varanasi in October 2009. Shocked, his parents are refusing to talk to the media. Refusing to hazard a guess at the likely motive behind attacking Rathore, a source close to the family revealed that Utsav had also been expelled from a prestigious convent school in Varanasi and may have felt an empathy with Ruchika.
In recent months, Utsav is believed to be experiencing an exaggerated sense of injustice in society and was very articulate about it. Those close to him had, however, never expected that this intolerance in injustice could manifest itself in the manner that it did outside a Chandigarh court yesterday.