On Record
Media should know how the military system of law works: Gen Kapoor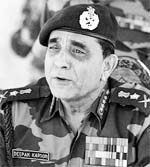 General Deepak Kapoor
Here are excerpts from Karan Thapar's interview with Chief of Army Staff (COAS) General Deepak Kapoor for CNN-IBN's Devil's Advocate which will be telecast today at 12.30 p.m. and 8.30 p.m.
KARAN THAPAR: Would you accept the Sukna land scandal has embarrassed the Indian army and has affected the way Indian people look at the Indian Army? COAS: Yes, Karan, to some extent it has embarrassed the Indian Army. But what is more important is to see what steps the organisation has taken to try and ensure such incidents do not get repeated.
KT: Given that this is a matter of propriety and there are no specific charges of corruption, could it have been handled better?
COAS: In our country the media has been super active on this issue and if they had been better informed and if they knew how the military system of law works, they would have handled it in a more positive fashion than in a purely negative perspective.
KT: Would you say the media has been unfair?
COAS: Possibly, at times they may have been over reactive. Keeping in mind the sensationalism, TRP ratings etc., they may have been overactive to sensationalise the issue.
KT: In a statement on Dec 1, 2009, the Eastern Command of the Indian Army said the press coverage "amounts to character assassination of senior army officers". Is that also your view?
COAS: It could well be to an extent yes. Because if it is based on totally informed issues, then definitely it would be appropriate. But at times when it is not fully informed, not fully aware of all the facts, and then passing judgements really amounts to character assassination.
KT: Since you say the media was not well informed, shouldn't the media have been informed better, given more information by the army?
COAS: That has always been attempted and continuously my media staff has been trying to interact with the media to give the overall perspective to them.
KT: So would you say it was done inadequately?
COAS: I don't think it was done inadequately. I would say it depends on how at times they could sensationalise those aspects. The same kind of news could be given in a positive or a negative twist.
KT: Are you saying the media has been sensationalising the issue?
COAS: No, I would only say that media has not been fair and objective in this particular case and to an extent has sensationalised the issue especially when things like scam, scandal etc have been talked about. When you refer to a scam it means certain amount of money involvement, wrongdoing in terms of making money etc. As far as this case is concerned there has been no indication of any kind of money involvement.
KT: Should the media treat senior officers, not just Generals but Brigadiers, Major Generals who are charged with corruption differently from the rest of the people?
COAS: No, not at all! I don't think so. In fact, every person who has to face some kind of investigation should be treated at the same level without any problem at all.
KT: Hasn't the media done so? That is treat the other people, with the same intensity and focus as they have done for Army officers?
COAS: I think since the entire process of disciplinary proceedings are on, it would be too premature to pass a judgement on that. We would get to know with the passage of time, as to if the media been totally fair or not.
KT: Let me come back to my original question. Could this have been handled better?
COAS: If I may suggest to you, it was not an outside agency, Karan, which asked us or pointed out the flaw to us. It was the Army itself. The organisation is resilient, objective and is concerned of its image in the public eye. So, keeping that in mind the enquiry was ordered by the Army itself. Therefore, it has been self-corrective action which has been undertaken by us.
KT: So, there are no decisions or actions which in hindsight should have been taken differently?
COAS: I think we have gone totally by the way it should have been done and that is what we follow throughout.
KT: First, before you made your initial decision to take action against the four indicted generals did you consult the Defence Minister?
COAS: Karan, you know it is a process. When such a thing happens, obviously the Defence Minister will also be concerned, when some senior officers have alleged to be involved in a thing like this. So a degree of interaction always takes place and it is not right to assume that no such interaction takes place. Naturally, I have to keep the government informed of the happenings.
KT: So there were consultations with the Minister all the time?
COAS: I leave it to you (but) I've said that in as many words.
KT: Secondly, do you think you erred in initially proposing administrative action for three of the officers and disciplinary action for one?
COAS: When I had to look at the issue, I had to ensure that I was fair, just, that everyone was looked at, based on the degree of culpability involved of that individual in the case. You cannot put everyone on the same bracket.
KT: So the same punishment for all four would not have been justified?
COAS: That's right.
KT: The media believe you appear to have been softer on Gen. Prakash, who as Military Secretary was close to you.
COAS: I had to be conscious of the fact that I did not have any personal or media pressure on myself. Gen Prakash is one of the PSOs. Eight PSOs serve under me by virtue of whatever professional reputation they have enjoyed in the past. Therefore, one PSO is as dear or far away from me as the other.
KT: So the accusation that you have been partial to Gen Prakash is unfair?
COAS: I would say that.
KT: Thirdly, many people feel the Defence Minister was wrong to have made public his advice that you should take disciplinary action against Gen Prakash. This step has been seen by many as interfering with the COAS' prerogatives
COAS: First, I would not like to comment on the aspect of Defence Minister being wrong. o comment on that. Secondly, it is a matter of advice. When we are interacting certain amount of discussion, debate does take place. And when I have to take a decision, I had to take all the factors into consideration. The Court of Inquiry, findings, its opinion, the show-cause notice, the response to it and all other relevant facts when I come to a conclusion. Therefore, I have taken that decision and that is what has been promulgated.
The aspect of legal recourse is not complete. Only the first step has been taken in the form of Court of Inquiry. There are other aspects which are going to continue which include the Summary of Evidence which will happen. The Court of Inquiry is only a fact-finding body which establishes a prima facie case and once the Summary of Evidence has been written down, the Commanding Officer looks at the facts and then decides what has to be done next.
In the civilian perception, the meaning of court martial is not really understood. It really implies trial by a military court. Sometimes there is a perception on the civil side that just because a person is being tried by Court Martial he is bound to get the worst of punishment or he is headed for the gallows. That is not right. In fact, it is meant as any other court to perform a function. There are many people who have been acquitted in the past.
KT: Coming back to the Defence Minister's public advice. If I understand your answer correctly there is nothing wrong or improper in that.
COAS: I don't think the Defence Minister gave any public advice. I am sorry but just because it has been orchestrated in the media, it does not mean it becomes public advice.
KT: It was leaked to the media and probably deliberately.
COAS: Look I do not know about that, as to how the media got hold of it.
KT: But does it embarrass you?
COAS: That is a separate issue, and it has no concern with me. As I said I was looking at the facts of the case and I would like to be away from any kind of media pressure to say. This doesn't matter to me.
KT: Fourthly, after issuing a show-cause notice, on what grounds did you change your mind and opt for disciplinary action instead?
COAS: As I said earlier, besides the fact-finding opinion of the court, the reply to the show-cause notice was also considered. When we look at all these facts, I did what I felt was the best course of action and when this happens all the aspects of the case would also come out.
KT: The media said that you were under pressure from the Defence Minister to change to disciplinary action.
COAS: The media has talked a lot about the so-called pressure on the Army Chief but, like I stated in the beginning, the media has not been fair on the Army Chief. Without trying to criticise the media let me say that if the media had armed themselves with better knowledge of the legal system within the Army and better knowledge of the facts, perhaps, they would have treated the subject a little differently than what they did.
KT: Now that the Court Martial has got underway there will be lawyers involved. The Armed Forces Tribunal could also give a verdict and stop the court martial or make things complicated. Isn't it getting worse and worse for the Army?
COAS: The legal system and the norm desires that everything must come out appropriately. If there is a legal process to be followed, let it be followed. The damage to the Army's image, whatever little extent it got done, I look at it as an individual misdemeanour. It got done initially when the media kept harping on it. I do not think just because the legal system would like to look at it as to the exact truth and how it happened, therefore treat the offender in the fashion it deems fit. It wouldn't in any way damage the army any more, because it would bring out the true extent of culpability of the individual. It will also show that the legal system both within the Army and within the country is very fair to each and every person.