| | |
| --- | --- |
| Trees shed leaves, giving an autumn-like look, near the road seperating Sectors 9 and 11 in Chandigarh. Tribune photo: S Chandan | 'I am the rising sun' seems to be this man's claim as he is captured behind a palm leaf. Tribune photo: Vicky Gharu |
Le Corbusier's Legacy
UT shoots off letter to stop auction
Chandigarh, February 17
Though the city has exceeded the deadline for its claim to the heritage status this year, it is not losing out any chance to let the legacy of Le Corbusier go to anyone.
Brewpubs coming up this summer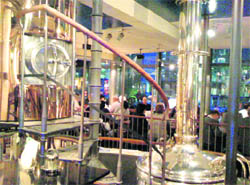 Chandigarh, February 17
Beer guzzlers in the city can expect a fresh flavour to satiate their taste buds this summer as the Chandigarh administration is chalking out last-minute details to allow brewpubs under its new excise policy (2010-2011). A brewpub is a basically a European concept, where an eating joint also serves self-brewed beer. A brewpub is different from a draught beer pub. A more traditional definition for draught beer is beer that is served from a large container, which may either be a keg or a cask.



Rs 1 crore sanctioned for '84 riot victims
Chandigarh, February 17
The UT finance department has sanctioned Rs 1 crore for the 1984 anti-Sikh riot victims who had shifted to the city but had not been able to secure any help, the Punjab and Haryana High Court today heard.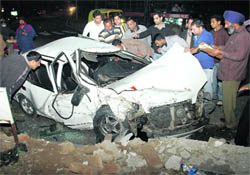 The car which rammed into the roundabout separating Sectors 18, 19, 20 and 21 in Chandigarh on Wednesday night. Three persons were injured, two of them seriously. Tribune photo: Manoj Mahajan
Airport to get facelift by July
New Jet timing for Chd-Delhi flight
Chandigarh, February 17
Jet Airways' Chandigarh-Delhi flight will operate on new timings from March 28.
CHB, staff at loggerheads over deputationists
Chandigarh, February 17
The proposal of the Chandigarh Housing Board (CHB) to seek deputationists on vital posts is threatening to snowball into a major confrontation between the board and its employees.
Evening OPDs restart at Panchkula
Panchkula, February 17
The evening OPDs, discontinued 10 days back silently by local health authorities, have been started once again here today.
Exhibition of medical books begins at PGI
Chandigarh, February 17
A three-day exhibition for display-cum-sale of medical books begin at the PGI here today.
Admn to launch CFLs in big way
Chandigarh, February 17
The Chandigarh administration, with a view to reducing energy consumption and get carbon credits, would soon launch Bachat Lamp Yojana.
Lecturer assaults former principal
Mohali, February 17
A former principal of GGS Polytechnic College, Kharar, who is now working as an adviser in the same institute, was allegedly attacked and injured by a lecturer of the college.
Pensioners protest outside DC office
Mohali, February 17
Members of the Mohali unit of the Punjab Government Pensioners Association staged a dharna outside the office of the Deputy Commissioner in support of their demands here today.
Rly budget hotel project comes unstuck
Chandigarh, February 17
Five years ago the railway authorities had announced a budget hotel would be constructed at the city's railway station. However, officials these days prefer to remain tightlipped about the project, part of the plan to build such hotels at about a 100 stations across the country
Experts against populist Budget
Chandigarh, February 17
"Let's not have a populist budget," was the view voiced at a pre-budget talk organised in the city by the department of research and development, Gurukul Vidyapeeth, today.
'Icebergs will melt, but don't panic'
Chandigarh, February 17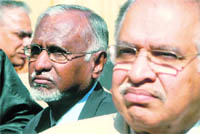 "To expect not to have global warming or global cooling is to expect too much," said Dr Ashok Sahni, Department of Geology, Panjab University, during a seminar 'Climate, Carbon and Copenhagen' organised by the Society for Promotion of Science and Technology in India (SPSTI) at Panjab University.

Delegates at a seminar on "Climate, Carbon and Copenhagen" at Panjab University in Chandigarh on Wednesday. Tribune photo: Vinay Malik
Workshop for slum kids
Chandigarh, February 17
The Art of Living and eSys Information Technologies today started a four-day workshop for underprivileged children at Shikya School, Sector 46, today.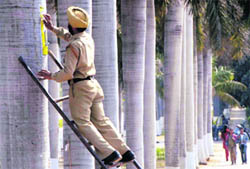 PRESERVING BEAUTY: A security guard removes the poster of a students' body on the Panjab University campus in Chandigarh. Tribune photo: Vinay Malik
Book on Gandhian thoughts released
Chandigarh, February 17
Punjab Governor and UT Administrator Shivraj V Patil released a book "Relevance of Gandhian Thoughts today and other seminars on eradication of social evils" at a function organised at the UT Secretariat here recently. Patil appreciated the Punjab Writers and Cultural Forum for bringing out the book, which he hoped would help revive interest in Gandhian values and philosophy. Forum chairman Ved Parkash Gupta, secretary general Madan Lal Hasiza and adviser Ujjagar Singh apprised the Governor about various activities of the forum. — TNS
Despite confusion, system ok in first phase
Chandigarh, February 17
The Continuous and Comprehensive Counselling (CCE) has reached the final stage of first phase of its application in Class IX. Despite lack of preparation and groundwork, city schools have successfully carried it out as the board plans to implement it to Class X from next year, but the confusion continues to prevail regarding the system.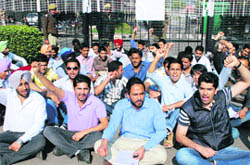 PUSU supporters and students from various departments of the university protest in front of the Vice- Chancellor's office in support of their demands at Panjab University in Chandigarh on Wednesday. A Tribune photograph
Pharmacy dept investigates healing effects of herbs
Chandigarh, February 17
Having patented effective medicines like "Thank God" for bleeding piles and "Psorisome" for psoriasis in the recent past, the Panjab University pharmacy department is now officially investigating the healing effects of prominent Indian herbs. The department, which is the only institute in the country to become a centre of advanced study (CAS), has been assigned the work by the Central government to lay down the norms for the ayurveda rulebook (Pharmacopoeia), which is an official compilation of drugs in India.
Annual day at Dayanand Public School
Chandigarh, February 17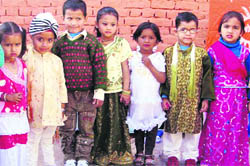 Maharishi Dayanand Public School Daria, Chandigarh, celebrated its annual function on the school campus here recently. Surpanch Gurpreet Singh inaugurated the function, while cricketer and film artist Yograj Singh was the chief guest.



Students of Maharishi Dayanand Public School, Daria, at their annual day on the school premises in Chandigarh. A Tribune photograph
Human rights conference ends
Chandigarh, February 17
The two-day conference on human rights held at Panjab University concluded here yesterday where Baba Seechwal ji, an eco-activist, was the guest of honour, while justice RS Mongia, chairperson, Panjab State Human Rights Commission, was the chief guest.
| | |
| --- | --- |
| Cooling effect: Girls enjoy ice cream at the Sector 17 plaza in Chandigarh as the mercury rose by a few notches on Wednesday. Tribune photo: S Chandan | Lt-Gen SR Ghosh, GOC-in-C, Western Command, gives away gifts to children from J&K, who were in Chandigarh on Wednesday under 'Operation Sadhbhawana'. A Tribune photograph |
Road safety workshop at PU
Chandigarh, February 17
The Chandigarh Traffic Police yesterday organised a workshop on traffic rules and regulations at Panjab University here.