Setting it right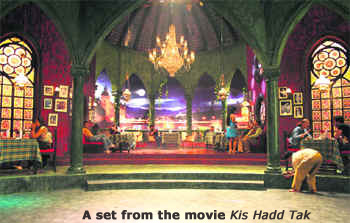 A red-coloured couch in the middle of a swanky room, classic chandeliers swaying with the wind, glass vases in the bedroom, dusty furniture in the police station, a village tea shop of an old chacha, a huge bungalow with walls of coloured glass how many times while watching a movie do your eye balls go beyond, rather, go behind the macho hero, his polished family, and exceedingly homely wife, to catch things in the backdrop?
Dance like us
Let's begin with the introductions; she's a physiotherapist while he an IT graduate. One of the stereotypical college encounters, a couple of trophies and this is it. Dr. Priti Gupta, her partner, Shannon Benjamin haven't stopped swinging since! In the city for a week on the invitation of Chandigarh Dancesport Association, they talk of three things they love - dance, dance and, well, dance.
Personal touch!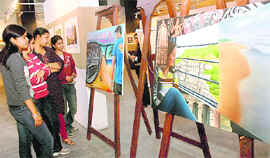 Students of the Government College of Art recreate the moments of their college trip
Criss-crossing rail tracks and litter all around, the first photograph pasted on the wall of the exhibition hall of the Government College of Arts, we thought, was a prelude to the whole exhibition. Clicked by Aruna Gupta, the picture caught attention for it showed the real Indian railway tracks, full of dirt and garbage!

Photo by Parvesh Chauhan

Renee Writes
Forgive and forget
at lifestyletribune@gmail.com or Life Style, The Tribune, Sector 29-C, Chd
I am 18, studying in Chandigarh and living in a hostel. I have been reading your column and feel a sense of relief with most of your answers. I have an emotional problem. My parents separated when I was born. I have been living with my mother who is working. My father comes to visit me and I am very fond of him. All these years my father has been giving me a strange picture of my mother's character. I have recently discovered that it wasn't true. I love my mother very much but I am totally confused. I thought I loved her despite her faults though I definitely felt antagonistic towards her. I cannot decide how to deal with these new feelings. Please help.
The perfect bahu
Ash visits Abhishek's granny despite illness
She has always been the dutiful 'bahu' of the Bachchan family and even physical illness could not hold back Aishwarya from visiting her husband Abhishek's grandmother on her birthday. Abhishekh and Aishwarya Bachchan, who were recently voted India's favourite celeb couple celebrated the 80th birthday of Jaya Bachchan's mother, Indira Bhaduri.
Biker boy
Some are born with the nose for it, but others have to develop a taste for risk. Manjinder Singh Banga Dhaliwal belongs to both the categories. This self-trained professional stunt-biker and a Punjab police personnel has been riding on the risk, entertaining people and winning awards in the meantime. "I started performing stunts when I was 12 or 13-years-old and then graduated to performing at various national and international events," says the 24-year-old, who gave his passion for riding bikes a professional edge.
Slice of the sand dunes
Rajasthani Art and Craft Festival opens at Kalagram
The success of last year's Rajasthani Art and Craft Festival has resulted in the change of venue. Instead of Rajasthan Bhawan-34, this year, the festival will be held at Kalagram in Manimajra. "Last year's response has been overwhelming. The number of stalls will increase from 60 stalls to 140 this time," informs Rajnish Jain, chairman, Rajastani Art and Craft Festival.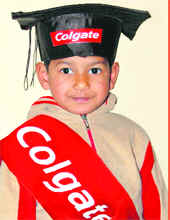 A reason to smile
Colgate-Palmolive (India) Limited, the market leader in oral care announced the winners of 150 scholarships from the Colgate 'Learn and Earn' offer. The offer received an overwhelming response from consumers across the country with over 130,000 entries. The Colgate 'Learn and Earn' offer which was especially designed to enable consumers to learn the five simple oral care tips and earn scholarships worth Rs 10,000 each was launched in July 2009 by Colgate as part of its continuous effort to improve oral hygiene in the country. The key focus of this campaign was to reach out to consumers and not only educate them about the basic oral care habits but also support them in their educational endeavors through scholarships.
Bond wagon
Dil Mil Gaye
Relationship: Mother-in-law — Daughter-in-law.
Time together: Seven years
Same-to-same: Enthusiastic, vibrant, talkative, fun-loving; heart rules the head, great motivators and team players
Yet different: Manveen Dabbles in colours and paint and loves cooking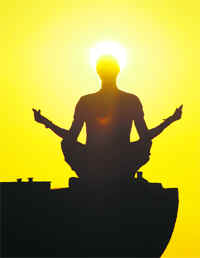 Take a chill pill
In these stressful times, people are taking to religious and spiritual practices to find peace. Read on…
Meditation, chanting, discourses — people are fast turning to religious and spiritual practices to deal with stresses and strains of modern living. Career demands, financial worries, health concerns or relationship challenges, life today is replete with problems. During such times, people are following old and new practices alike to deal with the situation. "Meditation helps you clear the stress on a daily basis," says Nisha Sood, 29, a housewife from Sector 45. "It gives you tremendous energy. It teaches you how to live in the present moment," she adds. "Meeting like-minded people at discourses channelizes your energies," she says.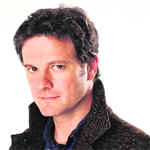 Colin Firth in daze after first Oscar nomination
Oscar fever
British star Colin Firth admits that he is in a daze after being nominated for his first Best Actor Oscar nomination for A Single Man. The movie sees him portraying a gay English Professor stricken with grief after the sudden death of his partner. "This really is the first time, I'm completely unfamiliar with it. One is in a perpetual daze. On Oscar night I will be in a daze. I think that's quite a good place to be actually," Firth said.
What a night!


It was a night to remember for Bollywood megastar Amitabh Bachchan, who found it a "haunting" experience hearing the heroic stories of the common man's valour at an award function. In a ceremony held by IBN 18 Network in the Capital on Monday, Bachchan felicitated 14 Citizen Journalists for their outstanding reporting. And, the 67-year-old screen icon, who recently donned the role of a media baron in Rann, was at loss of words after hearing the courageous stories of the awardees. "Last night's function at CNN-IBN haunts me still.
Train to Chandigarh
Geeta Basra of The Train fame is becoming a Punjaban for her next flick
How often do you come across actors who are not always politically correct? Probably, only a few. Geeta Basra of The Train is one from this league. The dusky beauty likes to call spade a spade. In the city to attend the wedding of her cousin, Geeta has no qualms on commenting the hullabaloo on My Name is Khan, and what damage do such controversies do to the film? "I didn't like it even one bit. These things don't happen in the West.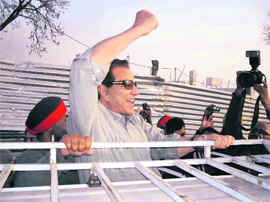 Here he comes:

Dharmendra, who gave mediapersons the slip past two days, finally arrived in the city on Wednesday. He was later whisked away to Patiala to join the unit of Yamla Pagla Deewana

Hrithik welcomes wife Sussanne to Twitter
Love in twitterland
The first Bollywood couple to share their mutual admiration on Twitter, superstar Hrithik Roshan has been joined by wife Sussanne on the micro-blogging site.The couple who guard their privacy closely, however, has been quite expressive with their love on the website.
Crowe the super dad
Russell Crowe has taken time off from his Hollywood career and got into the real life role of a superdad and househusband to help his wife make a music comeback. His better half Danielle Spencer revealed it was the Gladiator actor's turn to look after their sons Charles, six, and Tennyson, three. "(Russell) isn't working at the moment. So he's being Superdad, swanning about with the kids in the sun. If he's busy then I make sure that I'm around but generally we try to stick together," she said.
Winning streak
For Hollywood actor Christoph Waltz, who is tipped to win an Oscar this year for his portrayal of a cruel and ruthless Nazi officer in Inglourious Basterds, the award is not all about winning. "It's not a competition," the Austrian actor who has been nominated in the Best Supporting Actor category said.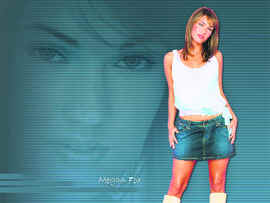 Megan's confession
Megan Fox thinks she doesn't look classy in underwear. In an interview with W magazine, Fox, the new face and body of Armani, was asked about modelling lingerie, and the actor said she feels her photoshoot in lingerie makes her look just a pin-up image and not stylish and sophisticated.She said: "There are some women you could put in underwear and photograph them, and it looks really classy and it doesn't necessarily provoke a pinup image ...
Secret out!
Children who are looked after by their grandparents are likely to be obese, a new study has suggested. The extensive University College London study, which included 12,000 three-year olds, found that the risk was 34 per cent higher if grandparents cared for them full time. However, kids who went to nursery or had a childminder had no increased risk, the International Journal of Obesity reported.
Ban on Lohan
Actor Lindsay Lohan was reportedly banned from Jill Stuart's Fashion Week show because the designer's team considers her a 'brand damager.'