Divine Connect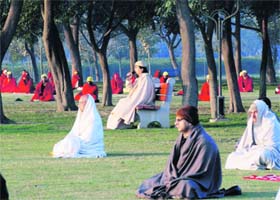 Swami Vishwas at a meditation camp at Atal Park in Karnal on Sunday. Tribune photo: Ravi Kumar
Now, disabled-friendly KU
Kurukshetra, February 21
Students with disabilities will have barrier-free access on the Kurukshetra University campus and affiliated colleges to enable these students and staff members to learn with dignity and contribute to the nation-building process.
KU signs pact with Canadian varsity
Kurukshetra, February 21
Kurukshetra University, Kurukshetra, has signed a pact with University Canada West (UCW), Canada. Stating this to mediapersons here yesterday, Prof Raghuvendra Tanwar, Registrar, Kurukshetra University, said: "It is a major initiative taken by Dr DDS Sandhu, Vice-Chancellor, Kurukshetra University, to put the university on an international map."
Haryanavi cinema needs stimulus: Malik
Sirsa, February 21
The man who produced and directed music album "Hooda Ki Lahar" having songs "Number one Haryana" and "Aisa pehli baar hua hai number one Haryana mein", for Bhupinder Singh Hooda's Congress government before the parliamentary elections, Harvinder Malik today advocated government support for rejuvenating Haryanavi cinema, which, he said, was lying on its deathbed.
Give subsidy directly to farmers: Surjewala
Kaithal, February 21
President of the All-India Kisan Khet Majdoor Congress Shamsher Singh Surjewala said here today that subsidy on fertilisers should be directly provided by the Centre to the farmers and it should not be provided to factory owners.
Spurious milk racket unearthed
Jind, February 21
A spurious milk racket has been unearthed in the district with the arrest of three persons and seizure of about 500 litres of the product at Dadrath village in the district. The raw material being used in the preparation of spurious milk has also been seized.


Kaluana village does state proud
Tops in total sanitation campaign; awarded Rs 25 lakh
Sirsa, February 21
When the total sanitation campaign (TSC) was being carried out in Haryana in 2008-09, residents of this remote village situated on the Rajasthan border made a major contribution in the success of the drive.
Students perform a dance in a school in Kaluana village in Sirsa. Photo: Amit Soni
Love all to govern better, Wasnik tells officers
Manesar (Gurgaon), February 21
The key to overcome social challenges and to achieve sustainable development lies in attitudinal transformation, especially of managers and controllers of public affairs. A people-friendly approach is must for them and can be better achieved if they empower their inner self with regular practice of spiritual wisdom, positive values and meditation.
Govt staff hold protest
Hisar, February 21
A large number of government employees staged a demonstration here today in protest against "the indifference of the government towards their long-standing demands".
Save-snake NGO comes up in Sirsa
Sirsa, February 21
In order to save snakes, scorpions and other poisonous creatures which stray into human habitations and are killed, a villager, Bhanwar Lal Swami, alias Sooraj Kumar, has set up an organisation in this district.
Terms Of Engagement
Meeting lays down gotra rules
Sonepat, February 21
Representatives of various khaps and organisations today laid down gotra rules for marriages, deciding there could be no matrimonial alliance between families sharing gotra either from the maternal or maternal side.
Haryana prepares for CWG
Chandigarh, February 21
The Haryana government will provide as many as 6,644 additional rooms during the forthcoming Commonwealth Games. Besides this, the room and infrastructure of Haryana tourism complexes are also being upgraded to meet the requirement of the games.


Held for damaging foundation stone
Fatehabad, February 21
The foundation stone of a "Harijan chaupal", laid by Haryana Agriculture Minister Paramvir Singh, was damaged by some miscreants at Talwara village in this district last night. The police has registered a case and arrested a villager in this connection.
The foundation stone laid by Haryana Agriculture Minister Paramvir Singh in Talwara (Fatehabad) that has been broken into two.
A Tribune photograph
CLP chief whip
Chandigarh, February 21
Chief Minister Bhupinder Singh Hooda today appointed the office-bearers of the Congress Legislature Party. While Balbir Pal Shah has been appointed deputy leader, BB Batra chief whip and Sumita Singh Deputy chief whip. Aftab Ahmed has been appointed the whip, Anil Dhantori the treasurer and Rao Dharam Pal will be the secretary.
Book exhibition
Narnaul, February 21
A book exhibition was organised at the temporary office of the Central University here. Publishers like Oxford, Routledge, Thomson & Reuters, Sage, Blackwell, Taylor and Francis and Springer displayed 5,000 books and journals on economics, political science, English literature, law, governance, education and management.