Cops arrest security guard
Fatehgarh Sahib, February 22
The murder case of a canteen contractor at RIMT College, Mandi Gobindgarh, has been cracked today with the arrest of a security guard deployed in the college.
Ban on pasting posters
Fatehgarh Sahib, February 22
District magistrate Yashvir Mahajan on Sunday banned pasting of posters on government buildings under Section 144 of the CrPC. In a press release, Mahajan stated that besides the ban on government buildings, a ban on pasting posters on all public signboards had also been imposed.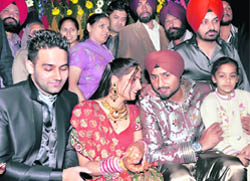 Off-spinner Harbhajan Singh attends the reception party of his sister, Sandeep Kaur, at a resort in Rajpura on Sunday.
Photo: JS Virdi
600 examined at eye camp
Bassi Pathana, February 22
The local unit of Bharat Vikas Parishad organised a free eye check-up camp here yesterday. Chief parliamentary secretary Bikramjit Singh Khalsa was supposed to inaugurate the camp, but in his absence Arthia Association president Harnek Singh, Khanna, inaugurated the camp.
Trends in forensic science discussed
Patiala, February 22
A three-day International symposium on "Emerging trends in forensic science" was organised by department of forensic science at Punjabi University here today.
Medical programme on heart diseases
Patiala, February 22
The Patiala branch of Indian Medical Association (IMA), under the leadership of its president Dr Ashok Gupta, organised a continuous medical programme (CME) on "Coronary Artery Disease Management - The Next Decade", here yesterday.
Advance computing conference ends
Patiala, February 22
Upcoming computing technologies and research work of scholars in the field of information technology was subjected to exhaustive scrutiny at the three-day IEEE international advance computing conference, which concluded at Thapar University here yesterday.
Amandeep, Rajwinder adjudged best athletes
Patiala, February 22
Khalsa College, Patiala, organised its annual athletics meet on the college campus.
UGC grant for Khalsa College teachers
Patiala, February 22
In yet another step to boost education, University Grants Commission, New Delhi, has granted eight research projects Khalsa College teachers here.
BJP seeks withdrawal of house tax
Bassi Pathana, February 22
A delegation of ruling alliance BJP led by its president Rajiv Singla today called on Deputy Commissioner Yashvir Mahajan and apprised him of various problems being faced by residents here and the decision of the local council to increase the rates of various taxes.
Sadarsh, Atinderpal shine in athletics meet
Kharar, February 22
The Fourth Annual Athletics Meet of the Doaba Group of Colleges concluded here today at the Doaba Group of Colleges, here.
Another elderly woman targeted by robbers


Ambala, February 22
Two robbers on a motorcycle targeted another elderly woman of Ambala City here today.

The incident occurred when the woman was going to her house, along with her daughter-in-law. According to sources, Vimla Rani (80), resident of Kanshi Nagar, had withdrawn Rs 15,000 from Punjab National Bank, Model Town branch, this afternoon.

Vimla Rani briefs mediapersons in Ambala City. A Tribune photograph

Sports day celebrated
Ambala, February 22
PKR Jain Vatika, Ambala City, celebrated its sports day, in which Deputy Commissioner Sameer Pal Srow was the chief guest. The programme started with the release of balloons by the Deputy Commissioner followed with a marchpast by four Houses of the school.



HC dismisses bail plea of Sumit Sofat
Panchkula, February 22
The things seems to have become more difficult for Dr Sumit Sofat, a Ludhiana-based medico, facing several criminal cases in different parts of this region following the dismissal of his anticipatory bail plea by the Punjab and Haryana High Court.

Clash: Accused acquitted
Chandigarh, February 22
The district court today acquitted all the persons involved in a clash at Dadu Majra.

The police had registered the case against them on May 27, 2009. It stated that a youth, along with his relative, assaulted a boy, who was allegedly following his sister.



1 killed, another hurt in mishaps
Chandigarh, February 22
A 40-year-old cyclist was crushed to death under a truck near the Mullanpur bridge here this afternoon.

Man posing as PGI ward boy held
Chandigarh, February 22
A 35-year-old Samrala resident was arrested today for allegedly masquerading as a ward boy in PGI and taking money from attendants of a patient for providing them out-of-turn medical aid.

Thieves decamp with 64 bolts, 32 handles
Chandigarh, February 22
Thieves decamped with hardware articles from a house in Sector 16 here. Madavdeep Singh of Sector 49 reported that someone had stolen 64 bolts, 32 handles worth Rs 25,000 from a house in Sector 16 yesterday during daytime. A case has been registered.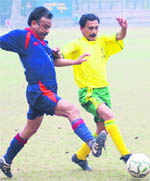 AG Punjab to lock horns with Delhi Audit in semis
Chandigarh, February 22
The AG Punjab is set to clash with defending champions, Delhi Audit, to enter the final of the North Zone IA & AD Football Tournament being held at the Sector-17 Football Stadium here today.




A match in progress at the Sector 17 Football Stadium in Chandigarh on Monday. Tribune photo: S Chandan
Rakesh, Harvinder caddies' golf champs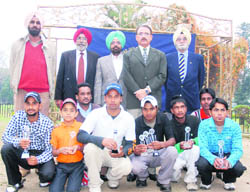 Chandigarh, February 22
Rakesh Monty fired a five over par 77 card to clinch the 0-9 handicap category title in the second Amateur Caddies' Golf Tournament played on the par-72 greens of the Chandigarh Golf Club here today.





The winners and runners-up of the second Amateur Caddies' Golf Championship at the Chandigarh Golf Club on Monday. A Tribune photograph
Sukhman sets record in broad jump
Mohali, February 22
Sukhman Kaur of Tagore House set a new record of 3.32m in broad jump in the U-12 girls' category on the first day of the annual athletics meet of Yadavindra Public School held at school grounds here today.
Ashu bags Pran Nath Vahi Cup
Chandigarh, February 22
PPS Sawhney and SS Bala proved lucky partners for Ashu B Singh, as she clinched the Pran Nath Vahi Memorial Cup on the par-72 greens of the Chandigarh Golf Club here yesterday.
Varun, Samatav win gold
Chandigarh, February 22
Varun Kumra and Samatav Sharma have bagged gold in the International Taekwondo Selection Championship conducted by the Taekwondo Do Board (TDB) in Sonepat recently.