Protests against DMC's house tax move
Tribune News Service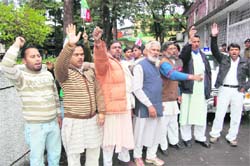 UKD workers hold a demonstration at the DMC office in Dehradun on Tuesday. A Tribune photograph
Dehradun, February 23
Rejecting the house tax regulations released by the Dehradun Municipal Corporation (DMC) on February 19 in various newspapers, Congress councillors, led by Opposition leader Ashok Verma, gave a memorandum letter signed by 28 Congress councillors to Mukhya Nagar Adhikari (MNA) NK Joshi to register their opposition.
To pacify the disgruntled, the MNA proposed to constitute a committee, which would include the Opposition leaders to discuss and solve the issue, but Verma refused to become a part of any such committee. He made his opposition to the house taxes quite clear.
Verma opposed the pattern of self-assessment taxes saying that they had been adopted from Uttar Pardesh and were not suitable for the geographical and financial condition of Uttarakhand. He also said these taxes were product of the ordinance announced in 2000, but not implemented since then. This way, their implementation lost its significance.
He suggested DMC to first make its own MC Act and, then levy the taxes accordingly.
He called the Mayor autocratic for imposing the tax direction despite getting disapproval from Congress councilors. He blamed him for getting the regulation passed in board meeting by taking advantage of belonging to a party in power and majority. He also decried treating upper, middle and lower classes with similar approach.
He said the new taxes would put additional burden on loaners, small entrepreneurs and employees who are already bearing the brunt of paying loans to the bank and, the slums would also come under severe strain. He requested the MNA to desist from implementing the taxes.
Meanwhile, the Uttrakhand Kranti Dal, led by Latafat Hussain, advisor of the policy committee of the party, gave a memorandum to the District Magistrate for the Chief Minister denouncing the newly-announced house tax rates.
Hussain said when the DMC was floated in 2003, the board had promised villagers that unless all villages were fully merged with the state and got full development, they would not be charged house tax. The board had broken its promise.