PUNJAB
HARYANA
JAMMU & KASHMIR
HIMACHAL
REGIONAL BRIEFS
NATION
OPINIONS
LETTERS
BUSINESS
SPORTS
WORLD
Shimla development planning goes haywire
Successive govts have done little to arrest damage
Shimla, February 23
Notwithstanding tall claims of the government about ensuring planned growth of the "Queen of Hills", the Shimla Development Plan submitted almost five years ago is still awaiting approval as the situation has reached beyond redemption.
Power Cos flout environmental norms
Palampur, February 23
With the setting up of over 100 mini hydropower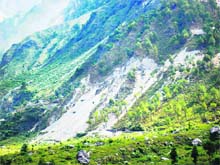 projects in Himachal Pradesh, easy money has flown into the state in the past three years ever since the government has liberalised the rules in this regard and allowed the outsiders to come and invest money in these projects.

A view of denuded hills owing to reckless cutting of trees by power companies.

Realty mafia eyes heritage sites of Mandi
February 17, 2009
Generic drug companies fleecing patients
February 10, 2009
Road debris killing trees
February 3, 2009
Forest land in Nadaun dotted by encroachments
January 20, 2009
Chamba jail to make way for bus stand
January 13, 2009
More women coming forward to seek justice
January 6, 2009
Forest Dept says no to more power lines
December 30, 2009
Deserted 'wives' at the receiving end in tribal areas
December 23, 2009
Pong abuzz with migratory birds
December 16, 2009
BJP-Cong tussle delays central varsity project
December 9, 2009