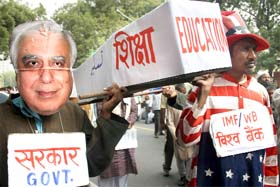 People take part in a rally demanding education for all under the banner of AISF and other organisations near Parliament, New Delhi, on Wednesday. Tribune photo: Manas Ranjan Bhui
Single window suggested for housing allotments
Gt Noida, February 24
Greater Noida Industrial Development Authority's founder chairman Yogendra Narain has suggested a single-window scheme for housing allotments to prevent frauds and unwarranted hike by private builders. It is generally seen that just allotment letter does not fulfill the dream of owning a house.
DU teachers to intensify stir against semester system
New Delhi, February 24
After finishing their relay strike against the semester system at vice-chancellor Deepak Pental's office, which did not yield any positive outcome for them, Delhi University (DU) teachers warned today that they would intensify their stir.
Board Exams
More students seek counselling during and after exams
Panicky parents have negative impact on kids
New Delhi, February 24
With the Class X and XII board exams drawing closer, parental pressure on students to perform well is increasing. Experts feel that parental pressure adversely affects students who are already burdened by examinations and this could lead to a major negative impact on their performance or lives.
Two juvenile burglars arrested
New Delhi, February 24
The South District police today claimed to have apprehended two juvenile burglars involved in a series of cases of burglaries and setting houses on fire including yesterday's incident where a house in Laxmi Bai Nagar of South Delhi was burnt down after burglary.
Man dies, son hurt in truck mishap
New Delhi, February 24
One person was killed and another injured when a truck turned turtle in the Sarita Vihar area of south-east district around 12:30 pm today near DMRC Depot in Sarita Vihar.
Gang of robbers busted
New Delhi, February 24
Seven persons, including five proclaimed offenders (POs), allegedly involved in a series of robberies and dacoities across the NCR have been arrested by the south Delhi police.
Noida petrol pumps to get CCTVs soon
Gt Noida, February 24
After the launch of MMS public-checking system and installation of four CCTV cameras at Pari Chowk, the district administration has now directed all petrol pumps in Noida and Greater Noida to install CCTVs within a fortnight.
DTU, NPL sign pact for new courses
New Delhi, February 24
Delhi Technological University is all set to offer an array of new courses after entering into a memorandum of understanding (MoU) with leading CSIR laboratory, National Physical Laboratory (NPL).
Noida authorities offer funds to upgrade police
Greater Noida, February 24
Noida, Greater Noida and Yamuna Expressway authorities have offered to help police improve law and order in these cities.
'Partial knee replacement better in many cases'
New Delhi, February 24
Even as Total Knee Replacement (TKR) surgery has become a solution for knee arthritis, doctors say nearly half of the cases of TKR could be substituted with partial knee replacement and reconstructive surgeries, if detected early.
Seven held for stone-pelting, arson
New Delhi, February 24
Seven people have been arrested after they indulged in stone-pelting and arson in the Parliament Street police station area today. They went ballistic over the police inaction in a case related to the death of a small girl.
1 caught for stabbing man
New Delhi, February 24
The police has arrested a man, identified as Jitender, who was trying to flee along with his accomplice after stabbing a man in Bhajanpura. The incident took place around 10 pm near Gorak Park.
Another death at Asha Kiran
New Delhi, February 24
A 40-year-old mentally challenged woman died at Asha Kiran Home today. This is the 27th death at Asha Kiran home since December last year.