Reality check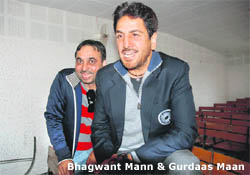 The Punjabi entertainment industry is gradually falling prey to stereotypes. So, what's in store?
If there is someone who has the audacity to claim that he is more popular than Shahrukh Khan, he has to be a Jatt! And anyone who has been a part of the Punjabi entertainment industry would not disagree. At a recent promotional event for his upcoming movie, Sukhmani, Punjabi actor Bhagwant Mann said, "Jatt te koi kanoon laagoo nai hunda, they are above the rest." This statement made in good humour might not have had an effect there and then, but it does get support from the umpteen songs and movies made to glorify them.
Jazzing it up!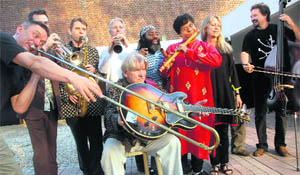 They have more than just music binding them. Both started young, both share a romance with music and grew up learning its language - one with jazz and the other classical. If one got insipred to come to India after watching Pandit Ravi Shankar play in Copenhagen, the other has played along with John McLaughlin, also known as Mahavishnu John McLaughlin, the best guitar player in the world. If one is known as the best bamboo flute player in the Indian and international music world, the other has the credit of forming a band that was entitled the Danish State Ensemble by the royal family of Denmark.
Hip & happening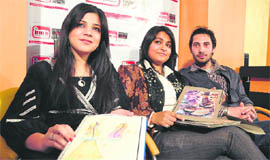 Three students of INIFD — Sukhwant Singh Buttar, Aastha Sharma and Sabah Khan — will make their debut at the Lakme Fashion Week
It took us a little more time than usual to compile this piece. Consider the same on the surface, then it's no big deal: Three students of INIFD will showcase their collection at the Lakme Fashion Week (LFW) Gennext show.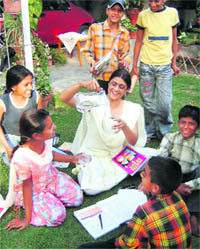 Making a difference
Teaching underprivileged children, harnessing your inner talent, looking after the elderly, tending flowers... women clubs in the city are doing all this and much more
Women and nurturing go hand in hand. No wonder when it comes to women clubs in the city they are making significant contribution in their own little ways. Be it underprivileged kids, bored housewives, lonely elders or even natural surroundings, women are extending a helping hand to them all.





Hamari Kaksha in action

God willing!
Belief in a concerned God can improve clinically depressed patients' responses to medical treatment, claims a study at Rush University Medical Centre.
Relatively speaking
A healthy trend
Keeping updated
Women clubs came into existence in urban areas to break the isolation women face and afford them an opportunity to socialise. Clubs enhance their knowledge on a variety of issues prevailing in the society. They discuss these issues, formulate an opinion and look for solutions. Clubs give women an opportunity to express themselves freely.
Renee Writes


Live in the present
I am a 26 years old girl, who has just finished a degree in medicine and am currently doing my internship. But I feel I am not happy with what I am doing at all. I would love change my line of career but no one in my family will allow it. I feel listless and completely unenthusiastic about my work. How can I regenerate myself? Is there anyway that my parents and peers will agree with me? Please help me.
Happi time
I'd work with Pankaj Kapoor again and again: Bhavna Talwar


After critically-acclaimed "Dharm", filmmaker Bhavna Talwar is ready with her second film Happi and she is all praise for veteran actor Pankaj Kapoor. She says the "perfectionist" was the right choice for her second film too."He is a perfectionist and extremely committed to his craft. A stalwart with whom I would love to work again and again. He has changed my entire perception about the industry. After working with him, my expectations from other actors in the industry have increased," said Talwar, who teamed up with Pankaj in her directorial debut.

Fan club
After Big B, Shraddha wants to work with Aamir
Veteran villain and character artist Shakti Kapoor's daughter, Shraddha, who is all set to make her Bollywood debut with Amitabh Bachchan starrer Teen Patti, aspires to work with perfectionist Aamir Khan.
New-age Man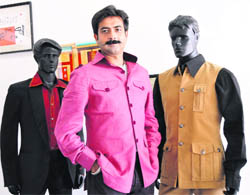 In the city, upcoming designer Rohit Kamra, talks of fashion and fashion weeks
Isn't designing all about redefining a couple of creative philosophies? Like a leaf from his Lakme Fashion Week's Spring Summer 2010 theme, he's the 'New Pure Man'. Dressed in pink, hunting safari jacket, Rohit, from the designer duo Rohit and Abhishek Kamra, dares dressing men in formidable reds and forbidden oranges. In city to interact with customers of Soh Koh Clothing Inc.—26, Rohit Kamra, talks of fashion, Bollywood flick Fashion and fashion weeks.
Launch PAD
Rich taste
Rich Beverages & Foods Pvt. Ltd. (RBF) on the occasion of 25th anniversary of the company, launched their new brand of tea by the name " Yuvraaj " at a resort in Zirakpur with much fanfare. RBF is already selling Rich Muskaan Tea in the market. With the launch of Rich Yuvraaj tea, RBF has offered more variety to tea lovers in the region. Ghungaroo Aggarwal, MD, Rich Beverages & Foods Pvt. Ltd, did the honours of launching Rich Yuvraaj Tea. The event was marked with scintillating performances by punjabi and western dance troupes, along with a splendid show of fireworks.
Home-ing in
Godrej Interio, India 's leading home, office furniture and interior solutions company offers its trendiest, most stylish furniture on exciting discounts! This exciting offer is valid on furniture – bedroom sets, kitchen sets, sofa sets, kids furniture and storwels.


Bag it!
Spring is the season. So, why not add some colour to your wardrobe with these vibrant bags?

The model is holding a spacious, colourful bag.
Just Brand-10. Price Rs 15,000.