Reality check
The Punjabi entertainment industry is gradually falling prey to stereotypes. So, what's in store?
Neha Walia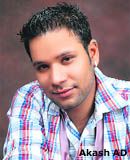 If there is someone who has the audacity to claim that he is more popular than Shahrukh Khan, he has to be a Jatt! And anyone who has been a part of the Punjabi entertainment industry would not disagree.
At a recent promotional event for his upcoming movie, Sukhmani, Punjabi actor Bhagwant Mann said, "Jatt te koi kanoon laagoo nai hunda, they are above the rest." This statement made in good humour might not have had an effect there and then, but it does get support from the umpteen songs and movies made to glorify them.
Albeit we love and respect the community, (on which an entire regional industry depends), there are issues beyond it, like glorifying violence, clichéd concepts, dozen-a-dime singers and clones in the name of songs. Not to mention, some weird star makeovers. Punjabi entertainment industry is gradually falling prey to stereotypes, that too in abundance.
"Like its star singers, the industry too needs a makeover. It's high time we break the herd mentality. Either they are busy with Kacheri or Kudi; nothing seems to be working apart from a few stale elements," says Akash AD, a Punjabi singer, who was recently in city to promote the Rose Festival.
He does have a point. If one singer gives a hit song on daaru, every singer starts worshipping Dionysis (Greek god of wine and liquor). In an industry that has seen the success of Mika, Harbhajan Mann and Gurdaas Maan, talent is aplenty but so are the clichés.
"Usually, the new singers lack versatility and then they are misguided into falling in line with the particular system of work. Not everybody can be Jazzy B, but they are made to believe so. The content being produced fails to attract a large audience and remains confined to a particular region or area," adds Akash.
He shares an incident where one of the representatives of a top record label mentioned the similarity of Punjabi songs to be annoying. "The exact words were, all songs sound the same." The only transformation ever seen was coming of crossover artists with their global beats, rapping, English lyrics and cool style. But that too became typecast.
Rajeeta Hemwani, vice-president, content and A/R, Universal Music, feels that the tried and tested formula is commercially a better option in Punjab. "Traditional and folk rule in Punjab. Even with the western influences, the sales of albums, genres of music and popularity of artistes suggests that there is a very little room for experimentation."
Even the movies function around similar countryside concepts, rich NRI characters, family fueds, suppressed females and love stories. Seems like everything else fails!
"There is no dearth of versatility and audience for meaningful cinema and content in Punjabi entertainment. The notion that people like mediocre stuff, being fed to them, is being broken by some. Problem is the same school of thought being followed for ages now," shares Jatinder Mauhar, Punjabi scriptwriter and director.
Another reason, he says, are the clashes within the industry, which are damaging its image. "It's the star system that is draining the meaning out of cinema. With no different dimensions being explored, how can you expect to connect commercial and social values in a phase of intellectual bankruptcy?" he questions. We are waiting for the answer as well!
nehawalia@tribunemail.com