Devotees throng mosques on Id-i-Milad eve
Srinagar, February 26
A large number of devotees offered prayers on the eve of Id-i-Milad-un-Nabi (Prophet Mohammad's birth anniversary) at the Hazratbal shrine here, while huge congregations were also seen in all other mosques and shrines across the valley today.
Vohra greets people on Id
Jammu, February 26
Governor NN Vohra has greeted people on the auspicious occasion of Id-i-Milad-un-Nabi. In a message of felicitations, the Governor described Islam as the religion of peace and said the holy day marks the birth of Prophet Muhammad, whose life was an embodiment of love, equality and brotherhood. —TNS
Facebook posting: NC, PDP trade charges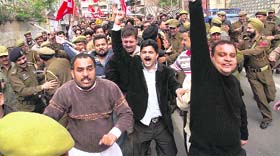 Jammu, February 26
The ongoing tussle between the Omar Abdullah-led NC and the Mehbooba Mufti-led PDP turned ugly today with violent protests against the comic presentation of Omar Abdullah, Farooq Abdullah and Sheikh Abdullah on Facebook, a networking site.

NC activists raise slogans against the PDP in Jammu on Friday. A Tribune photograph
Fulfil demands of employees, says Mankotia
Jammu, February 26
State president of the Panthers Party Balwant Singh Mankotia has flayed the state government for using police force against peacefully protesting employees.
Rural areas to get metered power soon
Jammu, February 26
With a spiralling 72 per cent transmission and distribution losses in the electricity deficit state, the rural areas would be soon brought under the ambit of metered electricity supply.
Curfew continues in Pattan
Srinagar, February 26
A day after sectarian violence broke out in Pattan town of Baramulla district, following which the authorities had to clamp curfew, the situation remained tense but under control.
Army constructs classroom in school
Udhampur, February 26
As part of Operation Sadbhavana, the Army has constructed an additional room in Middle School at Kawa village, a small village located on the Dhar road in Udhampur district. The Army handed over to the school authorities today.
Crime File
2 vehicles stolen
Jammu, February 26
Two vehicles were stolen from the Jammu region late last night. Nazir Ahmad Malik of Malik Pora Pulwama filed a complaint with the police alleging that his Maruti car was stolen from Residency Road. In another incident, Vinay Kumar of Jammu reported to the police that his motorcycle was stolen from his house.
Two killed in fire
Jammu, February 26
Two members of a family were killed in a fire that broke out due to an LPG cylinder blast in a shop at Vijaypur in Samba on Wednesday night.
Paper leak
Reexam on March 3
Jammu, February 26
Examination for the science paper-A of Class VIII, which was earlier cancelled after being leaked,will now be conducted on March 3.
Fresh snowfall in Kashmir
Srinagar, February 26
While the upper reaches of the Kashmir valley witnessed fresh snowfall, heavy rain lashed planes since last evening ending yet another dry spell. The upper reaches of the valley, including the scenic spots of Gulmarg, Pahalgam and Sonmarg, received heavy snowfall since last evening.
Display-Your-Talent
Poonam gets first prize
Jammu, February 26
The final phase of the Display-Your-Talent 2009-10, being conducted by the Department of Students Welfare, Jammu University, concluded today with a creative dance (solo) event.