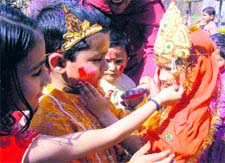 Children of Bal Niketan celebrate Holi at Ved Mandir at Ambhalla in Jammu on Saturday. Photo: Inderjeet Singh
Crime File
Five consume poison
Jammu, February 27
Five persons have allegedly tried to commit suicide by consuming some poisonous substance in the Jammu region, the police said. It said Vimal Saini of Arnia, Mohit Kumar of Vijaypur, Shah Jahan of Dandote, Banihal, Jernail Singh of Badyal Brahmana and Nisha of Swanakha were admitted to the GMCH after they consumed some poisonous substance. Cases had been registered against them.
PowerGrid DGM among Indians killed in Kabul
Jammu, February 27
Taliban's coordinated suicide attacks at two hotels in Kabul that left nine Indians, including two Major-rank Army officers, dead had cast its shadow on the temple city as well. Fifty-year-old Bhola Ram Gupta, Deputy General Manager of PowerGrid Corporation of India Limited, who is married to Jammuite Sarla Gupta and had settled in Jammu, also lost his life in the dastardly act.
Kashmiri Pandits allege rights violations
Jammu, February 27
Vir Saraf, a senior leader of the United Kashmiri Pandit Council (UKPC), today alleged that India had constantly and deliberately violated more than 30 per cent articles of human rights in the case of displaced Kashmiri Pandit community, which has been living in forced exile for the past 20 years.
Protest against Union Budget
Jammu, February 27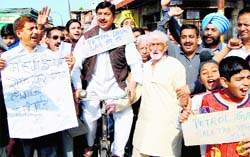 The Jammu West Assembly Movement (JWAM) today held a protest against the Union Budget proposals and decided to start a mass movement against the failure of the Central government to control inflation on March 5. According to a statement issued here, under the leadership of Sunil Dimple, president of the JWAM, protesters burnt the effigy of the Budget and criticised the Centre for its failure to control the price rise.
Members of the Jammu West Assembly Movement protest against the hike in prices of petrol and diesel in Jammu on Saturday. Tribune photo
Governor greets people on Holi
Jammu, February 27
Governor NN Vohra has extended warm greetings to people on Holi, the festival of colours. In his message of felicitations, the Governor observed that festivals were an important component of our rich cultural heritage, which strengthened the bonds of brotherhood and love.
Id celebrated with fervour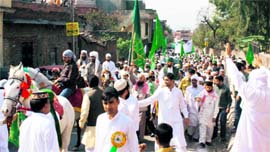 Srinagar, February 27
The festival of Id-i-Milad-un-Nabi, the birth anniversary of Prophet Mohammad, was celebrated across the valley with religious fervour and gaiety today. Hundreds and thousands of devotees participated in the prayers at the historic Hazratbal shrine here, as they were shown the holy relic of Prophet Mohammad.

Devotees take out a procession on the occasion of the Id-e-Milad-un-Nabi (Prophet Mohammed's birth anniversary) in Jammu on Saturday. Photo: Inderjeet Singh
Imtiyaz lost life trying to save colleague, says Army officer
Chana Marg (Shopian), February 27
Even though the entire district is considered as militancy infested, Nazir Ahmed Thokar defied militant threats and decided to send his four sons to serve the motherland and join the armed forces. Thokar is a proud father today as his youngest son Imtiyaz Ahmed Thokar, a commando with the 1 Para of the Army, attained martyrdom while fighting militants, who were holed up in a house in Chinkipora village of Sopore town in Baramulla district.
Environment awareness rally
Jammu, February 27
Students of Rising Star Public School, Bantalab, organised an educational-cum-environmental rally from their school to various lanes in the Bantalab area here today. According to a statement issued here, the students were carrying banners depicting quotations on education as well as environment. They stressed on neat and clean environment along with good quality education.
Hurriyat leaders detained
Srinagar, February 27
The police today took four leaders of the moderate faction of the Hurriyat Conference into preventive custody when they tried to go to Chankipora at Sopore in Baramulla district. The leaders wanted to visit the site of encounter where four Army personnel and five militants were killed and 32 houses were damaged.
JJSF to continue stir
Jammu, February 27
The Jammu Joint Students Federation (JJSF) has alleged political interference in the working of Jammu University. Partap Singh Jamwal, state vice-president of the JJSF, warned that it would continue its ongoing agitation until the genuine demands of students regarding concession in syllabus were fulfilled.
Curfew continues in Pattan
Srinagar, February 27
The authorities today had to take the help of village elders and constitute peace committees to restore normalcy in Pattan that witnessed violent sectarian clashes on Thursday. Curfew continued for the third day today in two villages of the town that witnessed violent clashes between the two sects of the Muslim community following the erection of a hoarding in the town. Around 20 persons were injured and more than 60 structures, including shops and houses, were set ablaze by the angry mobs of both sects.
Ammunition seized
Srinagar, February 27
Security forces seized a huge quantity of arms and ammunition from the Pulwama district of south Kashmir today. A spokesman said the police assisted by the troops of the 55 RR seized a bag containing 10 rifle grenades, two hand grenades, one AK-47 magazine and 65 rounds of ammunition during a search operation in Chakoora village here.