M A I N N E W S
Stampede kills 63 in UP
Jostling to partake of bhandara at ashram triggers panic
Shahira Naim
Tribune News Service
Lucknow, March 4
Sixtythree persons, all of them women and children, were killed and 100 others injured in a stampede at Mangadh ashram in Kunda, about 80 km from Pratapgarh district headquarters, in Uttar Pradesh this afternoon.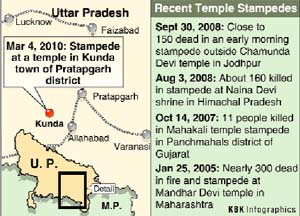 According to information, the incident occurred as an iron gate of the ashram collapsed in the jostling to enter the premises to partake of a 'bhandara' (community feast), organised to commemorate the death anniversary of Sri Kripalu ji Maharaj's wife.
Of those injured, two were stated to be in a critical state while 36 others were discharged after first aid. Those critically hurt have been admitted to hospitals in Allahabad and Unchahar.
Chief Minister Mayawati has directed the Allahabad commissioner to conduct a high-level inquiry into the incident and submit a preliminary report within 24 hours. Also, she has assured an FIR against the guilty and stern action once the report was available.
Addressing mediapersons here, Cabinet Secretary Shashank Shekhar Singh said the Chief Minister had sent two senior ministers -- Naseemuddin Siddiqui and Swami Prasad Maurya — to supervise relief and rehabilitation work.
Incidentally, both of them were already in neighbouring Rae Bareli district to re-inaugurate the bridge over Ganga river at Dalmau in Congress president Sonia Gandhi's constituency.
Prior to the stampede, a huge crowd, comprising mostly of women, children and the elderly, had gathered outside the ashram for the annual ritual 'bhandara'. As the crowd was clearly beyond the expectations of the ashram authorities, they only opened one gate of the double door iron entrance in order to regulate the crowd. Pushing and jostling of the devotees caused the gate to collapse, resulting in a stampede, the Cabinet Secretary said. He also admitted that the district administration had not been informed about the huge congregation.
As women and children were most vulnerable in the mad dash to escape, they were the ones who were run over. Senior district and police officials rushed to the spot to supervise rescue and relief operations.
While the Cabinet Secretary refused to hazard a guess about the number of devotees who had congregated at the ashram for the free food, clothes and utensils to mark the 'shraddha', eyewitness accounts put the figure around ten thousand.
The Mangadh ashram has a tiny hospital on the premises, which is apparently not equipped to deal with this kind of emergency. The injured had to be taken to nearby primary health centre and nursing homes and were later referred to Allahabad. A team of doctors and ambulances was later rushed to the ashram from Allahabad and Lucknow.