PUNJAB
HARYANA
JAMMU & KASHMIR
HIMACHAL
REGIONAL BRIEFS
NATION
OPINIONS
LETTERS
BUSINESS
SPORTS
WORLD

Friday, March 5, 2010, Chandigarh, India
Updated at 3:00 am (IST)

Stampede kills 63 in UP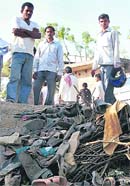 Jostling to partake of bhandara at ashram triggers panic
Lucknow, March 4
Sixtythree persons, all of them women and children, were killed and 100 others injured in a stampede at Mangadh ashram in Kunda, about 80 km from Pratapgarh district headquarters, in Uttar Pradesh this afternoon.

Locals gather near the stampede site at an ashram in Kunda, Uttar Pradesh, on Thursday. — PTI
Gratuity for pvt sector staff up
New Delhi, March 4
Bringing cheers for thousands of private sector employees, the government today approved raising the ceiling for payment of gratuity to them from Rs 3.5 lakh to Rs 10 lakh. The decision was taken at a cabinet meeting chaired by Prime Minister Manmohan Singh.


Cabinet nod to 269 nursing colleges

Nation page: Andamans a major port now
CAST YOUR VOTE
Are you happy with the Budget?

Advt
EDUCATION
JOBS & CAREERS
HEALTH & FITNESS
SCIENCE & TECHNOLOGY
REAL ESTATE
SPORTS
Abolish sahayak system: House panel to Army
New Delhi, March 4
A Parliamentary Standing Committee on Defence today asked the Indian Army to abolish the "colonial" practice of employing jawans as sahayaks of officers. It also expressed "strong displeasure" over the Defence Ministry's procedure to assess the exact level of indigenisation achieved by its production agencies to manufacture equipment.
Major Generals to draw more pension
Chandigarh, March 4
In a significant decision that will affect scores of retired Major Generals, the Armed Forces Tribunal today directed the Ministry of Defence to resolve anomalies in their pension fixation. The Generals were drawing emoluments lower than subordinate rank officers.
Didi embarrasses Pranab in LS
New Delhi, March 4
Trust Railway Minister Mamata Banerjee to say anything at any time! Today, she stopped short of accusing the government of not lending her ministry enough financial muscle in the recent Budget announcements.


Nation page: Sonia backs Pranab on fuel price hike
NDA 60 Glorious Years
1857 The First Challenge
E - Revolution 2005:
A Two-day IT conclave
Assembly Elections - 2005
Turbans
Chandigarh is 50
125 Years of The Tribune
India: The Tasks Ahead
India at Sixty
A Tribune Supplement
EARLIER FEATURES
On Sundays
On Saturdays
Time to redefine relations with Centre, says Punjab
Guv seeks transfer of Chandigarh, Punjabi-speaking areas
Chandigarh, March 4
The Budget Session of the Punjab Vidhan Sabha started today with Governor Shivraj Patil setting an agenda for restructuring the Centre-state relationship where the states have a greater share in resources in terms of allocation of funds.
| | |
| --- | --- |
| | Punjab Governor Shivraj V Patil and Vidhan Sabha Speaker Nirmal Singh Kahlon on their way to attend a session of the Assembly in Chandigarh on Thursday. Tribune photo: Manoj Mahajan |
Capt killed in Pulwama encounter
Srinagar, March 4
An Army Captain and four Hizbul Mujahideen (HM) militants were killed in a 30-hour-long encounter in Dadsar in the Tral area of Pulwama district today. While one militant was shot dead yesterday, three others were killed this morning.
Dossiers no basis to arrest Saeed: Pak
Islamabad, March 4
Pakistani authorities have decided not to arrest Jamaat-ud-Dawah chief and 26/11 mastermind Hafiz Saeed on the basis of new dossiers from India claiming that they do not contain actionable intelligence, according to a media report here today.
Petro prices fuel fire in Houses
March 4, 2010
Fuel Prices: Oppn plans to stall Parliament
March 3, 2010
India, Saudi role crucial in global economy: PM
March 1, 2010
Trinamool, DMK seek rollback of fuel hike
February 28, 2010
FM skirts populist steps
February 27, 2010
Indo-Pak talks end without much headway
February 26, 2010
No increase in fares, freight
February 25, 2010
Price rise debate sacrificed to rules
February 24, 2010
Govt committed to 'aam aadmi': Prez
February 23, 2010
2 KLF terrorists held
February 22, 2010
Hyderabad on boil, youth sets himself ablaze
February 21, 2010
26/11 probe to figure in Indo-Pak talks: PC
February 20, 2010
Red revenge: Naxals gun down 11 in Bihar
February 19, 2010