M A I N N E W S
Dossiers no basis to arrest Saeed: Pak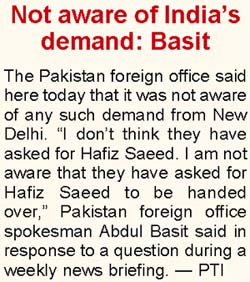 Islamabad, March 4
Pakistani authorities have decided not to arrest Jamaat-ud-Dawah chief and 26/11 mastermind Hafiz Saeed on the basis of new dossiers from India claiming that they do not contain actionable intelligence, according to a media report here today.
After a careful study of the three dossiers provided by India during the Foreign Secretary-level talks on February 25, Pakistani authorities have decided to send a response in a couple of days, sources were quoted as saying by The News. However, Pakistan will not hand over Saeed to India, the sources said.
"Saeed would also not be arrested and no case would be instituted against him since the dossiers have no actionable intelligence to implicate (him) in any charge of terror or other offence," the sources claimed. The sources also described Saeed as a man who is widely respected in the countries of the region.