International Women's Day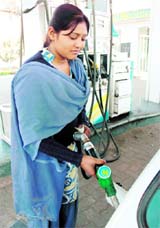 A girl fills a tank at a petrol station on the outskirts of Jammu on Monday. Tribune photo:Anand Sharma
Vohra hosts farewell for Justice Ghosh
Jammu, March 8
Governor NN Vohra hosted a farewell for the outgoing Chief Justice of the Jammu and Kashmir High Court, Mr Justice Barin Ghosh, and his wife Uma Ghosh at Raj Bhavan here last evening. The Governor wished Mr Justice Ghosh a very successful tenure in his new assignment as Chief Justice of the High Court of Sikkim.
Women's Bill won't be extended to state automatically
Jammu, March 8
The Women's Quota Bill, if passed in the Rajya Sabha,will not get automatically extended to Jammu and Kashmir because of the special status the state enjoys.
Legislative Council
2 new pension schemes for widows, disabled
Jammu, March 8
Minister for Social welfare, Sakina Itoo, today informed the Legislative Council that two new welfare schemes, Indira Gandhi National Widow Pension Scheme (IGNWPS) and Indira Gandhi National Disability Pension Scheme (IGNDPS), are being launched in the state to cover a significant number of beneficiaries.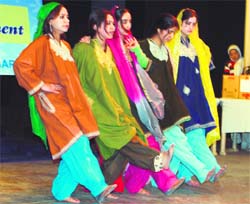 International Women's Day: College girls dance at a function organised by the CRPF at Tagore Hall in Srinagar on Monday. Photo: Amin War
Students' body holds open programme
Jammu, March 8
On the eve of completion of 100 years of International Women's Day, the Mahila Diwas Shatabdi Ayojak Committee, formed by girl students of Jammu University and its affiliated colleges, today organised an open programme in front of the Dhanvantri library.
Species Recovery Plan for hangul
Jammu, March 8
Government has prepared a Species Recovery Plan, for the conservation of hangul, an endangered species, through the Wildlife Institute of India, Dehradun, at a cost of Rs 22 crore.
Protesting students hold fast
Jammu, March 8
College students today switched over to hunger strike for the demand of concession in syllabus. For the past one month, students are protesting for the same demand under the banner of the Jammu Joint Students Federation (JJSF).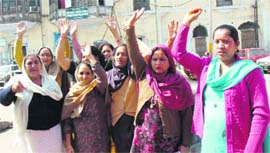 Women war refugees demonstrate in front of the Divisional Commissioner's office in Jammu on Monday. Tribune photo: Anand Sharma
Bodies of woman, son found
Udhampur, March 8
The police has recovered the bodies of a young married woman, along with her minor son, in Dubbri Upper Forest in the jurisdiction of Mahore police station in Reasin district yesterday.
Fake degree racket unearthed
Jammu, March 8
The police today claimed to have unearthed an inter-state racket of fake degrees and mark-sheets of different universities and school boards, mainly Uttar Pradesh, and arrested its alleged kingpin along with 21 fake degrees.
Schools reopen after vacation
Srinagar, March 8
All educational institutions, including recognised private schools, up to the higher secondary level in the Kashmir division reopened after winter vacation today. These were earlier scheduled, as per practice, to reopen on March 1, but in view of bad weather conditions and some areas in the upper reaches being under snow, the vacation were extended by one week.