FLIRTING WITH DANGER: Women violate traffic rules on city roads with impunity. Tribune photos: Vinay Malik
ITBP, police yet to vacate MC building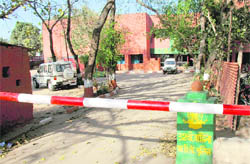 Chandigarh, March 9
The Chandigarh Municipal Corporation's wait to get the Sector 26 community centre building vacated from the Indo-Tibetan Border Police (ITBP) and the Police department does not seem to end. Despite assurances from the Chandigarh administration for the last 15 years, the community centre still houses an ITBP office and a police department office.

The ITBP office in the Sector 26 community centre building. Tribune photo: Manoj Mahajan

BJP's Randhawa is market committee vice-chairman
Chandigarh, March 9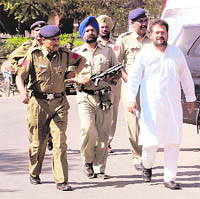 BJP candidate Subhash Randhawa was elected vice-chairman of Chandigarh Market Committee, election for which was held here today. Randhawa won the seat by one vote from the Congress candidate Devinder Singh Lubana. Randhawa got the support of chairman Darshan Singh, former vice-chairman Ramvir Bhatti, Jujhar Singh Bhadheri and Desh Raj Gupta, whereas Lubana was supported by Devinder Singh Babla, Anand Singh Khajheri and Jeet Singh Behlana.


Devinder Singh Babla comes to vote in the election to the vice-chairman of the Chandigarh Market Committee on Tuesday. Tribune photo: Vinay Malik

Employees take govt to task
Chandigarh, March 9
Members of the Haryana Karamchari Maha Sangh today held a protest demonstration at the Sector 25 rally ground, accusing the government adopting anti-employee and worker policies.




Members of the Haryana Karamchari Maha Sangh protest against the state government for the non-implementation of the Sixth Pay Commission at the rally ground in Sector 25, Chandigarh, on Tuesday. Tribune photo: Pradeep Tewari
Tribunal's directive to reduce litigation
Chandigarh, March 9
In an important decision while granting revised pensionary benefits to ex-servicemen, the Armed Forces Tribunal directed the Central government that orders of the High Court affirmed by the Supreme Court on settled issues of law be applied to all similarly placed persons so as to avoid infructuous litigation. The order would affect a large number of ex-servicemen who have been moving various courts individually to claim pensionary benefits.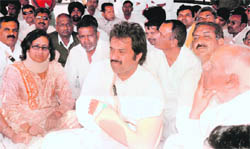 Kuldeep Bishnoi, president, Haryana Janhit Congress, sits on a dharna at Sector 25, Chandigarh, on Tuesday.
A Tribune photograph
Patil: Simplify tax collection
Chandigarh, March 9
Modernise your working and simplify procedures of tax collection, keeping in mind the complete satisfaction of the tax payers, said Punjab Governor and UT Administrator Shivraj Patil, while addressing senior income tax officials at a workshop here today.
Realtors' body seeks implementation
Mohali, March 9
The Mohali Property Consultants Association yesterday called upon Punjab Governor and UT Administrator Shivraj Patil seeking implementation of the Apartment Act 1995, as applicable to Punjab.
Ranjit's bodyguard 'had' pistol
Panchkula, March 9
Malkhan Singh, guard of Ranjit Bajaj, has reportedly confessed before the police that he had the pistol at the time of scuffle between Bajaj and Gurmohan on the night of January 29 at hotel North Park.

Husband's sperm is used in IVF procedure: Doc
Mohali, March 9
There is a misconception that the sperm of a person other than that of the husband is used in the in vitro fertilisation (IVF) procedure but the fact is that only husband's sperm is used unless his sperm count is very low, said Dr Hrishikesh Pai, a renowned infertility expert, here today.
Dr Hrishikesh Pai
Death Near Hallomajra Village
Docs for early post-mortem
Chandigarh, March 9
Even as the police is trying to establish the identity of the man who was found hanging in the jungle area near Hallomajra village on Monday, doctors said if the post-mortem was not conducted immediately, the chances of ascertaining the cause of the death would be very thin.


Class IX paper duplication
Sacred Heart to re-examine students
Chandigarh, March 9
In the first major fallout of the recent duplication of Class IX CBSE papers in various city schools, Sacred Heart School, Sector 26, is all set to re-conduct the examination for Hindi and maths.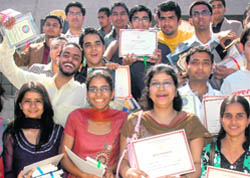 From Colleges
Prize distribution at GC-46
Chandigarh, March 9
The 28th annual prize distribution function was held at Government College, Sector 46, Chandigarh, here today. Pradip Mehra, adviser to UT administrator, was the chief guest. He applauded the efforts of faculty and students and distributed prizes.
Students in a jubilant mood after receiving prizes at Post Graduate Government College in Sector 46, Chandigarh, on Tuesday. Tribune photo: Parvesh Chauhan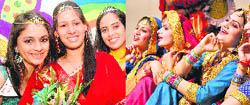 Ashima (centre) Miss Dev Samaj, Anupam (right) 1st runner-up and Tanuja Bhardwaj 2nd runner-up during a farewell party at the Dev Samaj College for Women in Sector 45; and (right) girls perform during the farewell party at MCM DAV College in Sector 36, Chandigarh, on Tuesday. Tribune photos
Equal salaries for govt contractual teachers mooted
Chandigarh, March 9
Clarifying the status of salaries of contractual staff on additionally sanctioned posts created by UT education department, director of higher education Ajoy Sharma today assured nearly 60 contractual lecturers of various government colleges, who submitted a representation against disparity in salaries.
Personality test classes from
March 15
Chandigarh, March 9
The Centre for IAS and Other Competitive Examinations, Panjab University, will hold coaching classes for interview/personality test for IAS, PCS and HCS examinations from March 15. Interested candidates can apply on prescribed application form available at the centre and also on website iasc.puchd.ac.in. — TNS