Dumping of fly ash continues unabated
Ludhiana, March 14
Focal Point here seems to be turning into a desert. Heaps of fly ash have stacked up along the roadsides here. Burning of rice husk produces fly ash, which the industry uses as fuel.
Mild tremors in city
Ludhiana, March 14
Mild tremors, measuring 4.6 on the Richter scale, were felt by city residents this noon, forcing people to come out in the open. Students in the library of Punjab Agricultural University, after feeling the movement of chairs and tables, immediately rushed out of the building.
She overcame odds to become beautician
Ludhiana, March 14
Fighting against all odds, Manmeet, who is deaf and dumb, did not let her handicap dissuade her from becoming a successful beautician and is now successfully supporting her family.
Rotting paddy delays work on polytechnic college
Khamano, March 14
The construction work of a polytechnic college in Khamano has been delayed for more than a month due to rotten paddy bags that are lying at the site for the past many years.
Health dept chalks out plan to check dengue
Ludhiana, March 14
Taking precautionary measures to quell gastroenteritis and dengue in the city, the Department of Health and Family Welfare has chalked out an "action plan" which has been forwarded to the Ludhiana municipal corporation.
Mass marriage function organised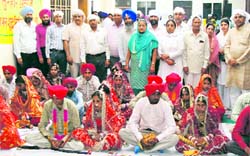 Raikot, March 14
In a service towards downtrodden and poor families, the Nishkam Sewa and Virdh Ashram of Raikot, with the help of Lions Club Raikot and NRI Avtar Singh Katri, today helped 14 couples to get married. The couples had arrived here to solemnise the marriage from far-off places of Barnala, Sangrur and Moga districts, besides Ludhiana district.

Couples tie knot at a mass marriage programme in Raikot. A Tribune photograph

Graduation ceremony
Sahnewal, March 14
Graduation ceremony was held at Sacred Heart Convent School, Sahnewal, today. Dr Mathew Chuvattil was the chief guest on the occasion. Daniel Gill and James Judith were also present at the ceremony.
200 students felicitated
Mandi Ahmedgarh, March 14
Over 200 students of Government College, Karamsar, were felicitated for their distinguished performance in various fields at the annual prize distribution function organised on the college campus yesterday.
Tewari blames SAD govt for fiscal mismanagement
Ludhiana, March 14
Congress MP from Ludhiana and national spokesperson of All-India Congress Committee Manish Tewari held the SAD-BJP government in Punjab responsible for fiscal mismanagement.
Business Clips
Web portal to guide pilgrims
Ludhiana, March 14
Ganesha Speaks, an astrological web portal and official successor to the astrological legacy of the world famous astrologer Bejan Daruwalla, has shouldered the responsibility of guiding the safe passage of pilgrims at the Maha Kumbha Mela 2010.
Auditions
Ludhiana, March 14
Participants queued up for the auditions of Colors channel's serial "India Got Talent-Season 2" outside the auditorium of Ramgariha College for Women, Ludhiana. Around 59 participants from Amritsar, Bhatinda, Moga, Jalandhar, Lohian Khas, Pathankot and Ludhiana showcased their talent.
Labour, farmer unions rally today
Jagraon, March 14
As many as 22 labour and framer unions will come on a single platform on Monday to protest against the "anti-employee" and anti-farmer" policies of the Union and the state governments.
Old beauties hit city roads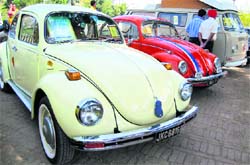 Ludhiana, March 14
Glorious relics of an age gone by hit the streets of Ludhiana during the third annual road show organised by the Punjab Heritage Motoring Club. The event showcased cars and two-wheelers, including the oldest car of the club, the 1929 Baby Austin, owned by Inderpal Singh Gill, along with his collection of other cars, including the oldest two-wheeler BSA 1952 owned by Sahil Sukheja from Faridkot.

Vintage cars on display in Ludhiana. Photo: Inderjeet Verma

BKU seeks higher MSP for rabi crops
Ludhiana, March 14
The Bharti Kisan Union (BKU) today asked the Union government to raise the minimum support price (MSP) of wheat and other rabi crops as per the recommendations of the Dr Swaminathan committee.
Camp for making PAN card
Ludhiana, March 14
A camp for making Permanent Account Number (PAN) card was today organised by the Children and Women Welfare Council at Mini Rose Garden. The camp was inaugurated by Senior Deputy Mayor Parveen Bansal.
Experimentation drive by agri dept
Team visits farms to assess results
Jagraon, March 14
The Punjab agriculture department, through its district chiefs, has started an experimentation campaign. Under the campaign, Dr Gurcharan Singh Kalkat, chairman, Punjab Farmers' Commission, along with Balwinder Singh Sidhu, director (agriculture), Punjab, Inderjit Singh, director (dairy development), Punjab, and Dr Yadwinder Singh Cheena, chief agriculture officer, Ludhiana, visited various farms and sites within the district.
Rs 10 lakh grant to village
Jagraon, March 14
Ludhiana Zila Parishad chairman Manpreet Singh Ayali on Friday handed over a grant of Rs 10 lakh to Palwinder Singh, sarpanch of Salempur village to provide basic amenities in the area.
Programme in memory of last Sikh ruler
Raikot, March 14
Maharaja Dalip Singh Memorial Foundation organised a first-ever memorial programme "Vishal Utsav" in memory of last Sikh ruler Dalip Singh at Bassian Canal House, popularly known as "Kothi". Bassian house is a 200-year-old monument of Sikh heritage on the outskirts of Bassian.
CME on caesarean section
Ludhiana, March 14
The department of obstetrics and gynaecology at Christian Medical College and Hospital, Ludhiana, conducted a CME on caesarean section, its changing trends and medico-legal issues under the aegis of the National Obstetrics and Gynaecology Society of India (NOGSI) today.
Halwara explosive device incident
Security arrangements under cloud
Mandi Ahmedgarh, March 14
Revelations made by suspected terrorists who had implanted 10 kg of improvised explosive device in a car near Halwara Air Force Station, near here, before Republic Day, have put a question mark on the claimed vigilance of the police.
Suspects in police custody
Jagraon, March 14
The local police has taken the two suspects in the Halwara car bomb incident into its custody on production warrants to investigate the case filed against them. Both were arrested on charges of planting explosives in car parked near the busy market in the high security area containing the Halwara air force station, under sections 3, 4 & 5 of the Indian Explosives Act, a day before Independence Day.
Two hurt in group clash
Khamano, March 14
Two persons were injured in a group clash at Barwali Khurd village last night. According to information, two groups, one led by former sarpanch Avtar Singh and the other by Tarlochan Singh and Netar Singh, had a minor scuffle on a bridge near the bus stop. Later, the Avtar Singh group allegedly attacked the house of Tarlochan Singh, who received a gunshot on his leg, allegedly from his own .12-bore rifle.
Body found
Ludhiana, March 14
The body of an unidentified man was found from a garbage dump in Shimla Puri area here today. The body was stuffed in a gunny bag. The police suspected that the deceased was forced to drink strong acid.
Weightlifting
Govt college, Khanna eves excel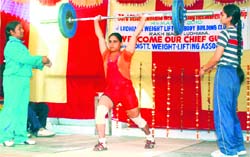 Ludhiana, March 14
Participants from the Government College for Women, Ludhiana, and Khanna hogged limelight by clinching three gold medals each in the women's section of the 33rd Ludhiana District Weightlifting Championship organised by the District Ludhiana Weightlifting Association today.


A lifter in action during the 33rd Ludhiana District Weightlifting Championship on Sunday. Photo: Inderjeet Verma