Man held with 559 boxes of liquor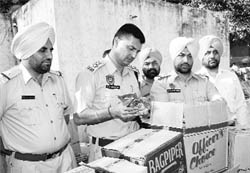 Rajpura, March 15
The police arrested one person with 559 boxes of illicit liquor here today. The accused has been identified as Gurjant Singh of Khadoli village, near Rajpura. Addressing mediapersons, DSP Manmohan Sharma and SHO Bikramjeet Singh Brar said the accused was a notorious liquor smuggler and had been active in the area for the past several months.

The liquor seized by the police at Rajpura on Monday. A Tribune photograph
4 held with 700 bags of sugar
Banur, March 15
The local police, with the help of mobile wing of the excise and taxation department, arrested four persons, including three drivers and one supplier, for transporting sugar illegally from Ambala to Amritsar.
500 examined at health fair
Patiala, March 15
A local private hospital in association with the IMA organised its second health mela here.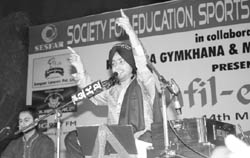 Sartaj gives Patiala a Sufi high
Patiala, March 15
Utterances "Sai Ve Sadi Fariyaad Tere Tain" brought alive Rajindra Gymkhana Club as renowned Sufi singer Dr Satinder Sartaj gave a soulful performance during a cultural evening, "Mehfil-e-Satraj", at the club last evening.


Sufi singer Satinder Sartaj performs during a cultural evening in Patiala. A Tribune photograph
Plantation drive at Khalsa College
Patiala, March 15
Nanhi Chaan Cell of Khalsa College, Patiala, celebrated Environment Conservation Day in order to mark Gurta Gaddi Diwas of Sri Guru Har Rai Ji on the college campus here.
Fellowship for Virk
Patiala, March 15
Punjabi poet and president of the Kendri Punjabi Lekhak Sabha Prof Anup Singh Virk has been awarded with a fellowship by Punjabi University. The fellowship has been bestowed on Professor Virk by Vice-Chancellor Dr Jaspal Singh on the recommendations of the head of the university's Punjabi department.
Accident spells traffic chaos at bridge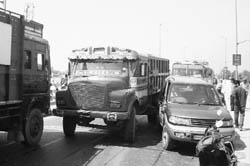 Kurali, March 15
A car-truck collision on the local bridge led to a two-hour traffic snarl-up here today.

The incidence took place around 11.45 am when Inderjeet Kaur, a Chandigarh resident, was travelling from Ropar to Chandigarh in a Tata Safari. When the vehicle reached near the bridge, a speeding truck coming from behind sideswiped the driver's side of the car.
The car and truck that were involved in an accident leading to a traffic jam at Kurali on Monday. A Tribune photograph

Villagers air grievance at sangat darshan
Bassi Pathana, March 15
The district administration organised a sangat darshan at nearby Abdulapur village to redress the grievances of people here today. Officers belonging to various government departments were present at the programme.

Man booked for assaulting wife
Zirakpur, March 15
The police has booked a man for injuring his wife by allegedly attacking with a sharp-edged weapon. The case was registered on the complaint of Sunita, a resident of Saini Vihar.

'Khula darbar' at Mehmoodpur
Ambala, March 15
Deputy Commissioner Sameer Pal Srow spent a night at Mahmoodpur village during a "khula darbar" organised by the district administration in pursuance of a directive issued by Chief Minister Bhupinder Singh Hooda.

Vets wear black badges
Ambala, March 15
The local unit of the State Veterinary Association wore black badges to press their demands here today.



Cop acquitted in graft case
Chandigarh, March 15
A special CBI district court today acquitted a constable with the Chandigarh police, Surinder Singh, in a graft case.

Cops to write to district magistrates
Chandigarh, March 15
The police will write to district magistrates across the region to trace the owner of the pistol, which was found abandoned at the Gurdev parking lot in Sector 17 here last night.

Sector-7 resident gets jail in dowry case
Chandigarh, March 15
A local court today convicted a man and his parents in a dowry harassment case.



Thefts during two marriage-related functions
Chandigarh, March 15
Thieves have decamped with valuables and jewellery during ceremonies at two hotels in different parts of the city.

'Kidnap' calls lead cops on wild chase
Chandigarh, March 15
Two "kidnapping" incidents reported from different areas of the city today kept the police on its toes for hours.



Lata adjudged best athlete
Chandigarh, March 15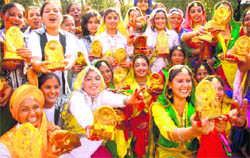 Lata from Meera House won the top honours, trailing Aarti and Keerti (from Narbada House) grabbed second and third positions, respectively in the Annual Sports-

cum- Athletics Meet of Government Central Crafts Institute for Women, Sector 11, here today.
Students of Government Central Crafts Institute for Women during the prize distribution function of the Annual Sports-cum-Athletics Meet in Chandigarh on Monday. A Tribune photograph

Tae-kwon-do meet concludes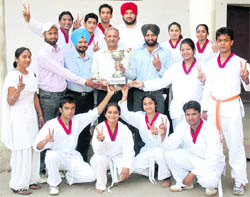 Patiala, March 15
Lads of MM Modi College, Patiala, and eves of Government Mohindra College, Patiala, won the Inter-College Tae-kwon-do Championship that concluded at Punjabi University's Gymnasium Hall. Coach Satwinder Singh said around 12 teams participated for the first team.



Winners of the Inter-College Tae-Kwon-Do Championship with their trophy in Patiala on Monday. A Tribune photograph
Double delight for Justice Mann

Chandigarh, March 15
Justice TP Mann clinched two titles (senior category) on the concluding day of the LD Kapoor Memorial Total Tennis Championship at Total Tennis Academy's YMCA, Sector 11, here today.
Winners of the LD Kapoor Memorial Total Tennis Championship in Chandigarh on Monday. A Tribune photograph

51 coaches attend refresher course
Chandigarh, March 15
Aiming at upgrading the technical knowledge and trends in sports, a total of 51 coaches of the Chandigarh Sports Department, Chandigarh Sports Council and the Sports Authority of India attended a refresher and orientation course, which started at the Sector-42 Sports Complex here today.

Kabaddi winners to get Rs 1 crore
Chandigarh, March 15
In an effort to boost the traditional sport, kabaddi, Punjab government is all set to dole out whopping prize of rupees one crore to the winning team in the forthcoming World Cup Kabaddi, being hosted by the state.

Punjab sports director Pargat Singh said runners-up would pocket Rs 51 lakh and third position holder would get Rs 25 lakh.

Co-owners of Kings XI in soup again
Mohali, March 15
Almost two years after the owners of IPL Kings XI Punjab, Ness Wadia and Preity Zinta landed in controversy for verbally abusing a former Mohali SSP RS Khatra, the co-owners have again landed in trouble.


Abhay Singh Sandhu, nephew of Shaheed Bhagat Singh, shows a copy of the complaint filed with the SSP, Mohali. A Tribune photograph