PUNJAB
HARYANA
JAMMU & KASHMIR
HIMACHAL
REGIONAL BRIEFS
NATION
OPINIONS
LETTERS
BUSINESS
SPORTS
WORLD
M A I N N E W S
Youth, women to the fore in Gadkari team
Aditi Tandon
Tribune News Service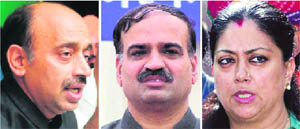 General Secys (L-R): Vijay Goyal, Ananth Kumar, Vasundhara Raje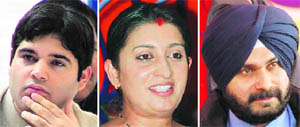 Secys (L-R): Varun Gandhi, Smriti Irani, Navjot Sidhu
New Delhi, March 16
BJP president Nitin Gadkari today pulled off a fine balancing act by announcing a please-all list of party office-bearers, 33 per cent of them being women. Former Rajasthan Chief Minister Vasundhara Raje also features in the national executive list announced today. She stands rehabilitated as party general secretary after being made to quit as Leader of Opposition in the Rajasthan Assembly.
By reserving 13 out of 37 office-bearer seats (11 vice-presidents, 10 general secretaries, 15 secretaries and one treasurer) for the fair sex, the party has exhibited commitment to the Women's Reservation Bill. In all, 40 women members are mentioned in the list, but Sushma Swaraj is the only one in the 13-member parliamentary board. The board has a majority of LK Advani loyalists, including Arun Jaitley and Venkaiah Naidu.
The list promises freshness after a period of turmoil. With 80 young members among 121, the party seems to be raising a brigade parallel to Congress.
Gadkari has offered the coveted vice-president's slot to actor Hema Malini; hand-picked artistes Smriti Irani, Vani Tripathi, and cricketer-turned-politician Navjot Sidhu as secretaries - a slot considered the nursing ground for future leaders. Shantrughan Sinha and Vinod Khanna remain members of the national executive. Also, among secretaries is BJP's Pilibhit MP Varun Gandhi, who had high hopes and wanted to be general secretary, having once rejected the offer of secretaryship from Rajnath Singh.
Among secretaries this time are young faces, including MP Saroj Pande, who defeated Congress' Motilal Vohra's son in Madhya Pradesh, Capt Abhimanyu from Haryana, Tapir Gao from West Bengal, Vani Tripathi and Delhi Mayor Arti Mehra. Kiran Maheshwari brings grassroots experience to her new role as secretary. Also chosen for the post is Sangh's man Muralidhar Rao. Among women, Nirmala Sitharaman, an academic, has been named spokesperson. The Sangh stamp is quite evident, with the list comprising BS Koshiyari as vice-president, Tarun Vijay, editor of RSS mouthpiece "Organiser" as spokesperson, Ram Lal as general secretary, organisation, and V Satish and Sudan Singh, as joint secretaries, organisation. Though rebels Arun Shourie and Yashwant Sinha are among members, they remain in the margins, so does Jaswant Singh's son Manvendra Singh.
Also, the RSS has kept party's Muslim face MP Shahnawaz Hussain out of the general secretary list, he is among six spokespersons. Najma Heptullah continues as vice-president. Among 11 VPs are several senior leaders, including former Himachal Chief Minsiter Shanta Kumar, hardliner Vinay Katiyar, Mukhtar Abbas Naqvi. Also in this league are new names - BJP's Guwahati MP Bijoya Chakravarty and Kiran Ghai. Ravi Shankar Prasad has been elevated as general secretary and will be chief spokesperson.
Among general secretaries Himachal Pradesh Chief Minister Prem Kumar Dhumal's loyalist Jagat Nadda, Raman Singh's man Saudan Singh, and Chief Minister Shivraj Singh Chauhan's trusted aide Narender Singh Tomar. Dhumal's son and party's Hamirpur MP Anurag Thakur is tipped to head BJP Yuva Morcha - a position Varun desired. Also in this barcket are former Jharkhand CM Arjun Munda and Dharamendra Pradhan, former BJP youth wing president. Gujarat CM Narendra Modi has wrested the best slot for his aide Purushottam Rupala, now vice-president. The only sulking Chief Minister is Yedyurappa, whose associate Shobha Khairlanje, has not been included. Khairlanje was hoping to be secretary.
Strangely, the RSS has not managed to blunt veteran Advani's influence, with latter's loyalist Anath Kumar retained as general secretary, despite a role in damaging the Yedyurappa government in Karnataka. Other Advani men are general secretaries Vijay Goel and Thavarchad Gehlot, retained despite losing the last Lok Sabha elections in Madhya Pradesh, where the party won.