Cong leaders get lessons from NSA
New Delhi, March 16
A day after the UPA regime was forced to defer the introduction of Civil Liability for Nuclear Damage Bill in the Lok Sabha, ruling Congress today sought to brace itself to counter the BJP-Left combined offensive on the Bill.
Maya riches in spotlight again
New Delhi, March 16
A massive garland made of Rs 1,000 notes that Uttar Pradesh Chief Minister Mayawati (54) wore at the Bahujan Samaj Party's 25th foundation day rally in Lucknow on Monday has amused the tax sleuths who are expecting a substantial jump in her next income tax returns.
Garland case in I-T hands
New Delhi, March 16
The Income Tax (I-T) department has decided to probe the source behind Uttar Pradesh Chief Minister Mayawati's garland, which was presented to her yesterday during a rally in Lucknow. The Chief Minister was presented the garland made from Rs 1000 notes at a BSP rally held to mark the party's 25th anniversary.
Separate law to curb honour killings
New Delhi, March 16
All those who participate in caste-based panchayat meetings, which order the killing of couples who marry against their diktat, can be booked for culpable homicide as per the provisions of a proposed Bill on honour killings drafted by the law ministry. The Bill, which has far-reaching implications for all those involved in such crimes, has been sent to the home ministry for comments.
AP bears heavy load of free power
Subsidy burden, illegal connections & widening demand-supply gap add to woes
Hyderabad, March 16
Is Andhra Pradesh going the Punjab way on the much-touted free power policy? With mounting subsidy burden, illegal agricultural connections and the widening demand-supply gap, questions are being raised over sustainability of the populist scheme for farmers.
'Shootout' at ISRO; terror angle ruled out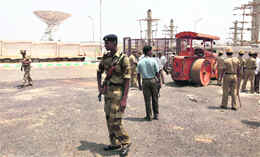 CISF man says he retaliated to firing by 2 men
Bangalore, March 16
Karnataka cops have ruled out terror angle in the firing incident early this morning at an ISRO facility near Bangalore. On the face of it, it does not look like a terror attack", Karnataka ADGP, AR Infant told The Tribune.
Security personnel at ISRO's Byalalu Centre, around 40 km from Bangalore, on Tuesday. — PTI

SRK's special gallery lands him in trouble


Kolkata, March 16
Bollywood star Shah Rukh Khan has landed himself in a controversy over the erection of an improvised gallery at the Eden Gardens, allegedly flouting the government's construction rules. The wooden structure (law permits for steel structure) was made exclusively for SRK's guests during the IPL matches at the Eden Gardens for cheering up the KKR team.
SC: Corruption eating into PDS
New Delhi, March 16
A vigilance committee appointed by the Supreme Court has found that the public distribution system (PDS), enjoying a government subsidy of Rs 28,000 crore, was being plagued by "rampant corruption, black marketing and diversion" with the connivance of bureaucrats.
'Uncle' linked to Dawood, '93 blasts?
Mumbai, March 16
Sunday's arrest of two men here for allegedly plotting to plant bombs across the city is leading investigators to the Dawood Ibrahim gang that carried out Mumbai's 1993 serial blasts.
Ramdev launches party to 'clean' political set-up
New Delhi, March 16


Putting all speculations to rest about his joining politics, yoga guru Baba Ramdev today launched a political party, Bharat Swabhimaan Party, in the Capital today which he claimed would "clean" the political system. He said he would not stand for elections personally but would field candidates in all 545 Lok Sabha constituencies in the country.
13 RS members bid farewell
New Delhi, March 16
Thirteen members of the Rajya Sabha today bade farewell to the House as they would be completing their tenure next month. PM Manmohan Singh joined Chairman Hamid Ansari in lauding their services as did Leader of Opposition Arun Jaitley.
Satyavrat is off Cong list of spokespersons
New Delhi, March 16
Senior Congress leader Satyavrat Chaturvedi has been ticked off and taken of the list of official spokespersons by the party for making "uncivilised remarks" against Nationalist Congress Party supremo Sharad Pawar on the price rise. Party sources said Chaturvedi, who in the past also had openly criticised Pawar for his inability to control prices, was strongly asked to refrain from making any comments on behalf of the party.
Sonia mulls intra-party coordination
New Delhi, March 16
Congress president Sonia Gandhi has sought better intra-party coordination to ensure that the party does not have to suffer embarrassing situation like yesterday when 35 MPs, playing truant at the time of scheduled introduction of the N-liability Bill, forced the UPA regime to defer the move.