COLUMNS

THIS ABOVE ALL
TELEPROMPT
GOOD MOTORING
LIFE'S LESSONS

FOR CHILDREN

CROSSWORD
ROOTS
RHYME TIME

Earlier Feature
TELEVISTA

AUDIO SCAN
Skiing to South Pole
Reena Kaushal Dharmshaktu, the first Indian woman to reach South Pole, recounts her historic feat. Seema Sharma reports from Dehradun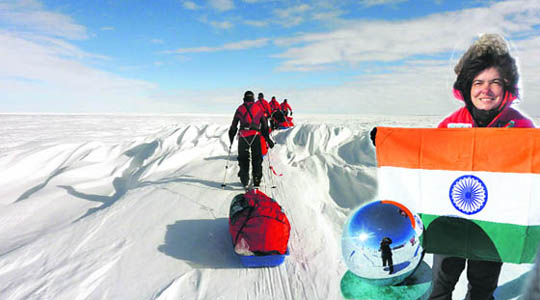 Thirtyeight-year-old Reena has scaled seven Himalayan peaks
Towing their 70-kg sledges to cover 900 km in the vast, icy wilderness of Antarctica while facing hostile blizzards, winds blowing at 140 km/per hour, in a temperature hovering at minus 40°C, a group of seven feisty women from different parts of the world skied relentlessly for 38 days.
Unfair play
It has taken more than 80 years for the Oscar to be awarded to a woman director. This shows that Hollywood remains as male-dominated as ever, says Geoffrey Macnab
In theory, the Best Director Academy Award is gender-neutral. It is, therefore, astonishing that it has taken more than 80 years for it to be awarded to a woman. Kathryn Bigelow's triumph exposed just how male-dominated US filmmaking remains, especially when it comes to directing. There have been many female power-brokers in Hollywood. Over the last decade, Sherry Lansing at Paramount, Stacey Snider at Universal and Amy Pascal at Columbia have all been studio bosses. And long before the first Oscar awards in 1929, Mary Pickford, the co-founder of United Artists, produced and starred in her own movies. But she didn't direct.