Permanent Residents (Women) Disqualification Bill
Congress starts damage control to counter BJP attack
Jammu, March 21
| The Congress has started a damage-control exercise to counter the propaganda launched by some organisations, especially the BJP and its allied wings, on the controversial Jammu and Kashmir Permanent Residents' (Women) Disqualification Bill. All frontal organisations of the party have been directed to clear the party of this controversial issue.
Hundreds of chinar trees face the axe
Srinagar, March 21
Even as World Forestry Day is being observed today, hundreds of Chinar trees in the Kashmir valley face the axe in the name of development.
Science Express fails to draw crowds on first day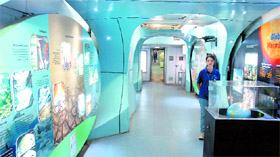 Jammu, March 21
The Science Express chugged into Jammu railway station without attracting much attention, thanks to lack of publicity and poor parking place. Efforts of the Centre and the Department of Science and Technology to popularise science and technology, especially among youngsters, through the train failed.

A science communicator waits for students in the Science Express at Jammu Tawi Railway Station on Sunday. Tribune photo: Anand Sharma
Take corrective steps, private schools to govt
Jammu, March 21
The Private Schools and Elementary Teachers Training (ETT) Institutes Association has appealed to the government to take corrective measures and adopt a positive approach towards government schools and private educational institutions to improve the education scene.
Army's initiative bears fruit
Udhampur, March 21
The Human Resource Development Centre (HRDC) started last month by the Northern Command tasted its first success as an Udhampur youth on its rolls cleared the interview at the Services Selection Board (SSB) in Bhopal.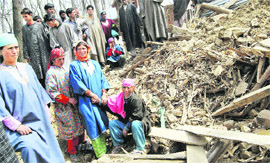 Pulwama encounter ends
Srinagar, March 21
The security forces today called off the operation that started last night in Batapora village of Pulwama district in which a top Hizb commander was killed.


Caught in the Crossfire: Locals on Sunday console a woman who breaks down near the debris of her house, destroyed in a gunfight between militants and security forces in Pulwama. — PTI
SC/ST activists protest against recruitment Bill
Jammu, March 21
Strongly protesting against the Bill that aims at banning inter-district recruitments, Anuscchit Jati Arakshan Bachavo Manch (AJABM) activists led by former MLA Bali Bhagat, and convenor, SC/ST United Front, Daya Ram Bhagat, blocked the national highway at BC Road this afternoon and burnt posters of the Congress-NC coalition government.
Transporters to go on strike on March 25
Jammu, March 21
Bus operators in the state today threatened to go on a day-long strike on March 25 demanding hike in passenger fare, following the hike in oil prices.
CRPF jawans save five mishap victims
Udhampur, March 21
CRPF jawans last night saved the lives of five persons, including a woman, after the vehicles they were travelling in met with an accident in Doda district.
MC seizes polythene bags
Jammu, March 21
The Jammu Municipal Corporation (JMC) seized about 55 kg of polythene bags from shopkeepers,vendors and others outlets in different localities of the city yesterday.
Control room for essential services
Udhampur, March 21
To monitor essential services in the district, the District Magistrate (DM), Udhampur, Baseer Ahmed Khan, has ordered the setting up of a district control room, besides sectoral control rooms of departments dealing in essential services.
Manto's 'Intzaar' staged
Jammu, March 21
An adaptation of Sadat Hassan Manto's short Urdu play 'Intzaar' was staged at Natrang's Studio Theatre here today. Directed by Sumeet Sharma, the play was upgraded to the contemporary times with some new dimensions and situations added to the main plot.
Jawan shoots himself to death
Jammu, March 21
An Army jawan allegedly committed suicide by shooting himself to death in Poonch district here today, the police said.