| | |
| --- | --- |
| | 'Golden carpet' welcome: Fallen leaves accord a warm welcome to morning walkers in Sector 10, Chandigarh. Tribune photo: Pradeep Tewari |
CBSE yet to spell out class XI admission norms
Chandigarh, March 22
The nine-point grading evaluation system for class X, one of the most ambitious education reforms introduced by the Central Board of Secondary Education, is set to face a serious blow in the absence of any fixed policy on subsequent admission to class XI.
Shock, disbelief at funeral of drowned students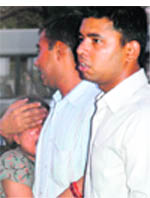 Chandigarh, March 21
An aspiring engineer and the youngest of three siblings, Ankur Singh, 20, had no clue that an attempt to save his friend from drowning would cost him his own life. A bid to be adventurous, followed by a small slip-up, resulted in the death of three city students on Sunday at Parwanoo. All were residents of the Air Force hostel, 3BRD. They had allegedly written in the hostel register that they were going out to visit Rock Garden, but ended up diving in Kaushalya river.

Grieving relatives of the students at the cremation ground in Sector 25, Chandigarh, on Monday. A Tribune photograph
Cement Racket
Key suspect may go free
Chandigarh, March 22
Going by past example, the prime suspect in the cement pilferage racket unearthed yesterday, is likely to go scot-free as he is a member of the municipal corporation on deputation from Himachal Pradesh. Earlier all deputationists involved in similar incidents have been repatriated to their parent cadre without any trial.



The Chandigarh Adarsh Women Sabha takes out a rally in memory of Bhagat Singh on his death anniversary near the roundabout of Sector 34/33 in Chandigarh on Monday.
Tribune photo: S Chandan (See also Lifestyle)
Cement Smuggling
Enough proof to nail MC officials: Cops
Three remanded in judicial custody till April 5
Chandigarh, March 22
The police investigation, a day after arrests, revealed that the Municipal Corporation's cement bags being smuggled out of the city were allocated for work to a sub-store in Sector 17.
Foreign tennis players bowled over by local dishes
Chandigarh, March 22
With its inherent charm and the lip-smacking variety of Punjabi delicacies that its restaurants and hotels offer, the City Beautiful has left players from abroad participating in the ongoing Future ITF Mens Tennis Tournament spellbound.
Sukhna Lake out of sync with environ
Chandigarh, March 22
As the UT administration is going all out to promote the city and its landmarks as the next tourist destination, the ongoing beautification drive at the Sukhna Lake seems to be out of sync with the natural environment that this water body depicts.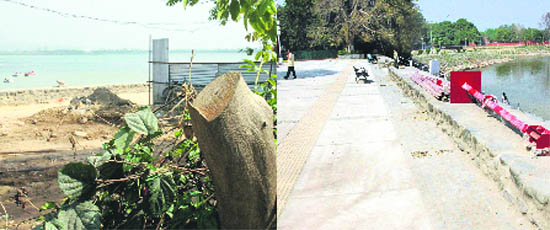 A chopped tree where the beautification drive is going on; and (right) the furbished portion of the Sukhna Lake near the cafeteria. Tribune photos: Manoj Mahajan
Another topiary park in Sector 49 soon
Chandigarh, March 22
Twenty-two years after a topiary park was set up in Sector 35 of the City Beautiful in 1987, residents of the southern sectors will soon get another one in Sector 49.
Corporation in dock for causing loss to exchequer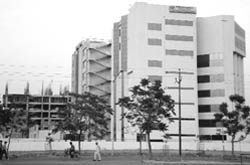 The Punjab Information and Communication Technology Corporation had allotted land to IT companies at a price less than the actual cost of the land in Sector 67
Mohali, March 22
The Punjab Information and Communication Technology Corporation is in a spot for causing loss of Rs 2 crore to the state exchequer by allotting land to IT companies at a price less than the cost price of the land in Sector 67 here. — The Infotech Complex in Sector 67, Mohali. Tribune photo: Vicky Gharu
Airport put on red alert
Chandigarh, March 22
A red alert has been sounded at the Chandigarh Airport in order to check any untoward incident following the recovery of suspected explosive from the cargo section of the Bangalore-Thiruvananthapuram bound Kingfisher plane yesterday.
Taxi stands: MC to conduct survey
Chandigarh, March 22
The Chandigarh Municipal Corporation is going to conduct a detail survey of the area to be allotted to taxi stands and examine the space for the construction of pre-fabricated structures at stands. This decision was taken at a Finance and Contract Committee meeting held under chairmanship of Mayor Anu Chatrath.
Chandigarh Beopar Mandal Poll
Battle for president's post intensifies
Chandigarh, March 22
With just a few days left for the March 28 elections to the post of the Chandigarh Beopar Mandal the battle of wits between the two contenders-Jagdish Arora and Diwakar Sahoonja-has begun in the right earnest with both intensifying their campaign for the D-day.
'Chronic dental problems could cause heart diseases'
Chandigarh, March 22
Did you know that chronic dental problems could lead to a heart disease? Eye-opening observations have been made after an extensive research work that was revealed by scientists in an interview to The Tribune on the occasion of second-day of the national seminar on clinical dentistry at Panjab University today.
Aspects of public health discussed
Chandigarh, March 22 Prof VP Kamboj, emeritus scientist, Central Drug Research Institute, Lucknow, and former director of CSIR and CDRI, inaugurated a two-day seminar on "Societal aspects of public health: Emerging issues" at the Seminar Hall of CIL, PU, here today.
Issuance of second credit card
Citibank in trouble
Chandigarh, March 22
Issuance of a second credit card to a customer and that too with an enhanced credit limit and subsequent demand of Rs 3,02,499, which was not at all payable by the consumer, has put Citibank in deep trouble.
Co seeks stay against MC
Chandigarh, March 22
Jai Prakash Associates Limited has filed an application under Section 9 of the Arbitration and Conciliation Act for granting an interim stay against the Chandigarh Municipal Corporation and not to encash bank guarantee of over Rs 1.16 crore. They submitted the request in the courts of the Additional District and Sessions Judge here today.
Victim's father files complaint with SP
Panchkula, March 22
Dr Chhatar Singh Kanwar, father of Kalyani, who was beaten up by a few foreign students in the hostel room of Alpine Residential School in Bhawana filed a complaint with the Superintendent of Police (SP) here today.


Proposed pattern of holidays given green light
Chandigarh, March 22
During a meeting of all department chairpersons of Panjab University, it was decided unanimously to go ahead with the new proposed pattern of holidays.
PU Notes
Teaching to remain suspended today
Teaching work in all departments, institutes and centres on the university campus will remain suspended tomorrow because of a pre-determined holiday. However, offices of the departments will remain open till 1 pm to assist students, who will come to collect their invitation cards and convocation rehearsal, according to dean of university instruction, PU.
21 students awarded scholarships
Patiala, March 22
Khalsa College, Patiala, organised the annual convocation function on the college premises here today.
Students to get school bags
Chandigarh, March 22
The education department has started distribution of school bags for the students of Class I to Class VIII of non-model government schools.