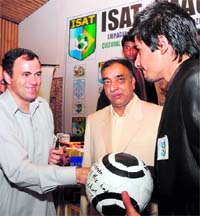 Chief Minister Omar Abdullah gives a football bearing his signature to a local player, Hanan, at a function in Srinagar on Tuesday. Hanan is one of the two Kashmir youths selected for one-year training in Brazil. Tribune photo: Amin War

Conspiracy to divide state, says forum
Jammu, March 23
The National Secular Forum (NSF) has alleged a deep conspiracy to divide the state on a regional basis and has urged the society to oppose the government's move to ban the inter-district recruitment. Addressing a press conference, NSF president Vikas Sharma said the state government was planning to divide the state on regional lines for its vested political interests.
Governor's greetings on Ramanavami
Jammu, March 23
Governor NN Vohra has greeted the people on Ramanavami. In his message, the Governor observed that the life and teachings of Lord Rama would continue to inspire generations for leading a harmonious life. He said that festivals were an important component of our composite heritage which further strengthened the bonds of harmony, brotherhood and pluralistic ethos.
Water scarcity in parts of Jammu city
Jammu, March 23
The problem of water shortage has become acute in some parts of the city, particularly Jammu West, due to the depleting groundwater level. The areas most affected include New Plot, Janipur, Rehari, Subash Nagar, Patoli, Reshamgarh, Sarwal and Shakti Nagar.
Tributes paid to martyrs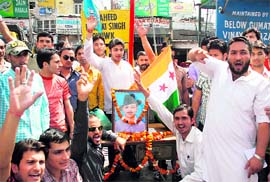 Jammu, March 23
Martyrdom Day of Shaheed Bhagat Singh, Rajguru and Sukhdev was observed by different student, social and political organisations across the region today. Public functions, exhibitions and commemorative functions marked the occasion.


Martyrs' Day: Members of the NSUI pay tributes to Bhagat Singh at Bhagat Singh Chowk in Jammu on Tuesday. Photo: Inderjeet Singh

808 Kashmiri Pandit families in valley, says minister
Jammu, March 23
Despite mass migration in 1989, 808 Kashmiri Pandit families are still living in different areas of the Kashmir valley. This was disclosed by Minister for Revenue, Relief and Rehabilitation Raman Bhalla in a written reply to the question of Sayed Basharat Ahmed Bukhari in the Assembly today.
Assembly adjourned due to lack of quorum
Jammu, March 23
The Presiding Officer had to adjourn the Jammu and Kashmir Assembly today due to lack of the quorum. The House reassembled after 12 minutes only after Chief Whips called the members from the canteen and asked them to attend the proceedings.
5 faculties in medical colleges may face de-recognition
Jammu, March 23
Health Minister Sham Lal Sharma today admitted that at least five faculties, including neurosurgery, in two government medical colleges, faced a threat of de-recognition from the Medical Council of India (MCI).
Soon, dist courts to have permanent chambers
Udhampur, March 23
The long-pending demand of lawyers for a permanent chambers complex was fulfilled yesterday as Deputy Commissioner Baseer Ahmed Khan laid its foundation stone at the premises of the district courts here.
Governor for holistic development of Bhimgarh Fort
Udhampur, March 23
Governor NN Vohra today gave instructions for holistic development of the Bhimgarh Fort at Reasi after inspecting the pace of the ongoing renovation work. He was in the town to attend the Annual Memorial Day-2010 function of General Zorawar Singh.
Pen-down strike threat
Jammu, March 23
The Jammu and Kashmir Government Employees Joint Consultative Committee (JCC) has decided to observe seven-day pen-down strike from April 5, if the state government does not fulfill their demands before March 31.