M A I N N E W S
Food, care, core facilities: Missing
Chitleen K Sethi/TNS
Chandigarh, March 23
As one enters the dark, dingy single room of the dharamshala that doubles as an anganwari centre in Nangal Garhian village, around 20 kms from here, four-year-old Satnam follows in. Pale, thin and dressed in clothes three times his size, Satnam watches every move intently, his eyes full of hope.
"He is wondering if he'll get to eat anything today," explains the helper posted at the centre. "There is no wheat or rice with us these days. Bags of panjiri arrived only yesterday but till their number is entered in the register, that will take at least two days, they cannot be opened to distribute food," he adds.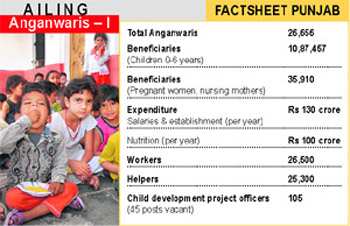 Like many other days, Satnam and eight of his anganwari mates will go back home today with an empty stomach and a heart full of pain.
Elsewhere in Punjab, the situation is probably worse. In Amritsar, children and expectant mothers enrolled at these centres have not been given any nutrition this month as the stock of grain, milk powder and sugar hasn't reached them. In Bathinda, children are being fed on the grain donated by villagers.
The 35-year-old flagship project of the Government of India, run under the Integrated Child Development Scheme (ICDS), anganwaris in Punjab are grossly mismanaged, known more for rampant corruption than as the poor man's creche. At several places in the state, the number of children coming to these centres is on decline.
Children between three and six years reach these centres before 10 am and are supposed to be there till 1 pm. As per norms, the daily nutrition of every child, expectant and nursing mothers (from BPL families) must include a glass of milk with sugar and kheer or panjiri or dalia. After the center closes, it's mandatory for a helper to go to houses of pregnant women to meet their nutritional requirements.
However, in reality, these centres are in a dismal state, with most of them running from ramshackle rooms of village schools, dharamshalas, gurudwaras and temples. Even the measly Rs 200 per month rent money for the centres is yet to be released. For urban centres, the rent is Rs 600 per month. It's too little to find a decent abode for these children. Compounding their woes is non-availability of clean drinking water. Helpers fetch water from hand- pumps or a tap somewhere and store it for the day. No centre has a bathroom. The children are taken to nearby fields to ease themselves. There is no power supply to any of these centres.
During summer and the rainy season, children are huddled in rooms, which are also used to store grains. Walls of these rooms are lined up to the ceiling with empty grain cans and till orders come from the top, these cans cannot be disposed of.
There are no kitchens to cook food and no arrangement for stoves. Almost everywhere wood or cowdung cakes are used as fuel on earthen stoves. "When it rains, we have to cook inside the centre and we have to make an extra effort to keep the children safe," pointed out a helper. In Ghanauli village of Ropar, a helper said she cooked the food at her house and then brought it for children.
"How does the government expect us to provide quality without providing us the bare minimum infrastructure," rues Kashmir Kaur, president of Anganwadi Mulazim Union, Jalandhar (urban).
(With inputs from Neeraj Bagga, Rajaydeep, Megha Man, Gurdeep Mann, Riva and Rajiv Bhatia)
(To be continued)