PUNJAB
HARYANA
JAMMU & KASHMIR
HIMACHAL
REGIONAL BRIEFS
NATION
OPINIONS
LETTERS
BUSINESS
SPORTS
WORLD
Wednesday, March 24, 2010, Chandigarh, India
Updated at 3:00 am (IST)

Maoists disrupt life, kill 2, blast tracks
Day 2 of bandh: Factory ransacked, traders abducted
Ranchi/Gaya, March 23
Maoists killed two persons in Jharkhand and blew up rail tracks in four eastern states today, just hours after they targeted the Rajdhani Express by blasting a rail line in Bihar in which hundreds of passengers had a miraculous escape after 10 coaches derailed.
Food, care, core facilities: Missing
Chandigarh, March 23
As one enters the dark, dingy single room of the dharamshala that doubles as an anganwari centre in Nangal Garhian village, around 20 kms from here, four-year-old Satnam follows in. Pale, thin and dressed in clothes three times his size, Satnam watches every move intently, his eyes full of hope.
On Headley Trail
After yes, US now reluctant to give India access
New Delhi, March 23
In a major embarrassment for India, the US, this morning said no decision had been taken to give India direct access in questioning terror-suspect David Coleman Headley who has confessed his role in the 26/11attacks.
CAST YOUR VOTE
Should politicians be allowed to withdraw so-called vendetta cases against MLAs?

EDUCATION
JOBS & CAREERS
HEALTH & FITNESS
SCIENCE & TECHNOLOGY
REAL ESTATE

SPORTS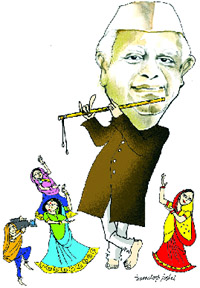 The Last Word
ND Tiwari
'Grand' old man with a glad eye
Chandigarh, March 23
Back in Dehradun after a controversial stint as Governor of Andhra Pradesh, Narain Dutt Tiwari is doing what he does best — interacting with common people from the Kumaon region where he hails from, and inspecting the schemes that he had introduced as Chief Minister of Uttarakhand.
Building blaze kills 10 in downtown Kolkata
Kolkata, March 23
At least 10 persons were killed and 30 injured when a devastating blaze swept through three floors of a 150-year-old multi-storey building housing offices and residences on the upscale Park Street on Tuesday.
UNION BUDGET 2010-11
RAILWAY BUDGET
2010-11
NDA 60 Glorious Years
1857 The First Challenge
E - Revolution 2005:
A Two-day IT conclave
Assembly Elections - 2005
Turbans
Chandigarh is 50
125 Years of The Tribune
India: The Tasks Ahead
India at Sixty
A Tribune Supplement
EARLIER FEATURES
On Sundays
On Saturdays
US Army gets its first Sikh graduate in 25 years
Washington, March 23
Captain Tejdeep Singh Rattan, a 31-year-old dentist, has become the first Sikh in over 25 years to be allowed to complete US Army officer basic training without giving up his turban or shaving his full beard. Rattan graduated on Monday at Fort Sam Houston after the army made an exemption to a uniform policy that has prevented Sikhs from enlisting since 1984 without sacrificing the articles of their faith.
| | |
| --- | --- |
| | SINGH ON A SONG: US Army Capt Tejdeep Singh Rattan speaks to journalists at the US Army officer basic training graduation ceremony at Fort Sam Houston in San Antonio on Monday. — AP |
Parliament gives Martyrs' Day a miss
New Delhi, March 23
Shaheed Bhagat Singh's towering 18-feet bronze statue in the Parliament looked lonely today, with just one MP turning up to pay floral tributes at it on the occasion of Martyrs' Day. Seventy-nine years ago on March 23, 1931, Bhagat Singh, Rajguru and Sukhdev went down in history as heroes, kissing the gallows with ease. But the Parliament gave them a miss.
TODAY'S SPECIALS
HIMACHAL PLUS

J&K PLUS

JALANDHAR PLUS

AMRITSAR PLUS

JOBS & CAREERS

HEALTH & FITNESS

Pak wants N-parity with India, US mum
March 23, 2010
Bomb-like object in airline cargo
March 22, 2010
India will get access to Headley: US
March 21, 2010
Death for hijackers
March 20, 2010
Godowns full but Pawar rules out wheat export
March 19, 2010
Foreign education Bill hits roadblock
March 18, 2010
Manpreet treads cautiously
March 17, 2010
Govt forced to defer N-liability bill
March 16, 2010
Two bomb planters arrested
March 15, 2010