Homage paid to Bhagat Singh, Sukhdev, Rajguru
Tribune News Service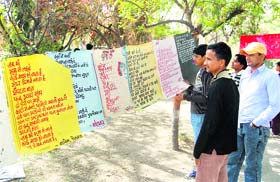 A poster exhibition put up by members of the All-India Students Association at the Gandhi Park in Dehradun on Tuesday. A Tribune photograph
Haridwar, March 23
Observing Martyrs Day today, the Kumbh city of Haridwar remembered three martyrs Bhagat Singh, Sukhdev and Rajguru, who were sentenced to death on this day 79 years ago.
Various programmes were organised in the district to pay homage to the martyrs. At Bhagat Singh Chowk, located in front of BHEL, and at Ranipur Mod, people offered tributes at the statue of the martyr. Outfits of the Congress held a programme at the chowk and garlanded the statue of the martyr.
The City Congress Committee was the first to pay homage to the martyrs. Addressing the gathering, senior Congress leader JP Pandey stressed the need of the youth idolising the three martyrs in their life. "Our youth need to idolise Bhagat Singh, Sukhdev and Rajguru, as it's due to their sacrifice that we are able to live in a free world today," said Pandey.
Recalling the incidence which led to their sentencing, party state women secretary Mira Raturi said after the murder of British police officer JP Saunders in 1929, a trial was held in Lahore against the three martyrs and they were executed.
"This is a day to remember the martyrs whose sacrifices liberated millions of Indians from the shackles of imperialism and paved way for India to get Independence just 28 years later," said OP Chauhan, city Cngress chief.
Youth Congress activists also held a separate function with activists remembering the contribution of the martyrs.
City youth chief Ravish Bhatija said the trio of Bhagat Singh, Raj Guru and Sukhdev, along with Chandarasekhar Azad, had put an ideal example for millions of youths to plunge into the freedom movement.
"Their role was very significant in igniting the national movement for freedom and it's up to us that we take their ideals and vision forward," said Bhatija.
CPI activists too remembered the martyrs on this day and held a discussion on their contribution and affect on national movement. State organisational committee member V Jakhmola pointed out that while on the one hand these martyrs at a young age laid their lives for the sake of the country, today it was being seen that politicians were filling their coffers and trying to divide India on regional, religious and caste basis.
"This is quite sad and it's not only by garlanding that one pays homage to these martyrs, but by making the country an ideal one which these martyrs envisioned. Martyrs thought of the country first, but now we have become self-centred and that is the reason why corruption has seeped deep in our society," said Jakhmola.
Dehradun: Shaheed Bhagat Singh was remembered on his death anniversary by various associations of the state capital at the Gandhi Park here today.
Members of these associations paid tributes to the martyr and organised a seminar in which they spoke on the contribution of Bhagat Singh to the freedom struggle.
Uttarakhand Parivartan Party member Rajeev Kothari said Bhagat Singh was a Marxist and wanted that farmers and working class ruled the country, not the capitalist. Kothari lamented that at present it was not the kind of society Bhagat Singh would have thought of in a free India.
Owing to neglect of the government, people are suffering and are forced to take to streets.
Meanwhile, Uttarakhand Pradesh Congress Committee and Mahanagar Congress Committee also paid homage to Shaheed Bhagat Singh and his comrades Sukhdev and Rajguru.
On the occasion, Mahanagar president Harish Virmani said India couldn't ever forget the contribution of these three freedom fighters. He added that even today if any child was told the stories of Bhagat Singh, Sukhdev and Rajguru, he would hold his head up with pride.