Now, Ramdev to float political party
Dehradun, March 15
Yoga guru Baba Ramdev today said he would be pitting candidates in all Lok Sabha seats of the country.
Anti-encroachment drive begins in Mussoorie
Anger of small vendors, social activists brew over biased attitude of Palika officials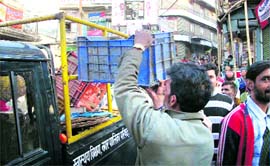 Mussoorie, March 15
Reacting to the news that appeared in The Tribune a couple of days back, the High Court has toughened its stand on encroachments in Mussoorie. The palika officials, led by high-powered committee chairman Jasvir Kaur and EO, Mussoorie, began the drive to remove encroachers in haste from the market at Picture Palace here today.

A palika employee confiscates the goods from encroachers during an anti-encroachment drive in Mussoorie on Monday. Photo by writer
College land not to be leased: MLA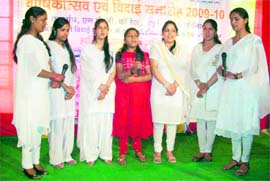 Mussoorie, March 15
Mussoorie MLA Jot Singh Gunsola inaugurated the union annual and farewell function of MPG College by the lighting the lamp here today. The cultural programme commenced with a welcome song presented by students, followed by a folk dance and song presented by Mahendar Chauhan and Dharmendar Parmar. Komal Surayal, who participated in the Republic Day Parade in Delhi, was also felicitated on the occasion.

Members of the MPG College Union celebrates the annual function in Mussoorie on Monday. A Tribune photograph
IGNOU holds convocation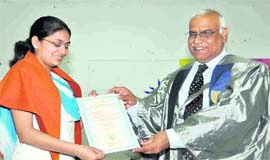 Dehradun, March 15
Indira Gandhi National Open University (IGNOU) held its 21st convocation ceremony here today. About 1,842 bachelors and masters students were conferred diploma and degree certificates. Chief guest for the ceremony was Durg Singh Chauhan, Vice-Chancellor of Uttarakhand Technical University.

Dr DS Chauhan, Vice-Chancellor of Uttarakhand Technical University, awards a degree to a student in Dehradun on Monday. A Tribune photograph
Educators, parents to share new methods
Dehradun, March 15
To discuss and announce holding a competition for educators and parents, the Forum for Emotional Intelligence Learning (FEIL), Dehradun Chapter, in collaboration with Samadhan Pahel and UCOST, held a press conference at Hotel Ajanta here today.
Poly Kids celebrate annual day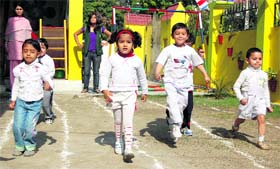 Dehradun, March 15
Tiny tots of Poly Kids, Dalanwala, celebrated its annual sports day here today. The toddlers took part in various races such as banana race, ball race, frog race, balloon race, lemon and spoon race, smile race and drills enthusiastically. Mukul Mahendru, Chairman, Ranjana Mahendru, Director, Monika Nigam, Headmistress, Nidhi, coordinator, and schoolteachers attended the event. —TNS

Tiny tots of Poly Kids school participate in the annual sports day in Dehradun on Monday. A Tribune photograph
Teachers' problems discussed
Dehradun, March 15
A two-day Junior High School Teachers' Association meeting concluded here today. The aim of the meeting was to address issues of teachers and discuss these on a common platform. The meeting was conducted in the presence of association president Yaswant Singh Negi and general secretary Manju Pandey.


Blond beauties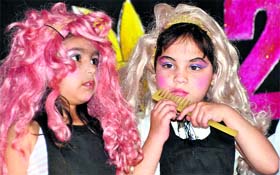 Young girls wear wigs to perform at a cultural programme at their school in Dehradun on Monday. Tribune photo: Vinod Pundir
Disability never a hurdle for him
Dehradun, March 15
For Saji Mathews, who is visually impaired, clearing the first year of the three-year PG diploma course in computer application was never easy. A one-year course extended to three years, but at the end of the exercise there were tears of joy as he strode to receive the award today at the convocation ceremony of Indira Gandhi National Open University (IGNOU).
Alva, Nishank extend greetings on Navratras
Dehradun, March 15
Governor Margaret Alva extended greetings and warm wishes to people of the state as well as the nation on the occasion of Chaitra Sukladi (Nav Samvatsar), Ugadi, Gudi Padava and Chetti Chand.
Clubs need to register players with football assn
Dehradun, March 15
The Dehradun Football Association has taken stringent steps to curtail the entry of fake players in football tournaments this year as well.
North-India v'ball tourney to start from April 9
Dehradun, March 15
The North India Volleyball Tournament will get underway at Junior High School Doiwala from April 9. Four teams from across the country are said to participate at the tournament. The tournament offers a handsome cash prize to the winning team.