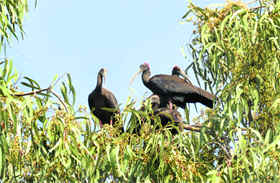 Migratory birds on a tree top in Dehradun on Monday. Tribune photo: Vinod Pundir

Uninor provides free mobile phone service
Dehradun, March 9
Uninor, a telecommunication company, has tied up with the Kumbh Mela Committee to provide free mobile phone services to pilgrims and visitors for making emergency calls.
Ukrainian couple ties knot as per Hindu rituals
Haridwar, March 9
The diversity of Indian culture and religion was witnessed on the ghats of the holy Ganga when a Ukrainian couple got married again, this time as per Hindu traditions.
Varsity to monitor seismic activity
Nainital, March 9
The Geology Department of Kumaon University is all set to execute the Earthquake Monitoring Project (EMP) for the region that is expected to go a long way in understanding the seismic activity and future planning for various projects.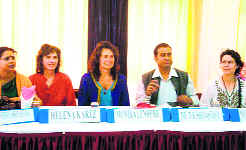 Rishikesh doc ayurveda flag bearer globally
Rishikesh, March 9
Ayruveda is fast gaining popularity and hold in the western world. While India is synonymous with ayurveda, Uttarakhand, which has many ayurveda practitioners here, is bringing laurels to the state and country as well.
Dr DK Shrivastava (centre) participates in a global meet. Tribune photo: Rameshwar Gaur

Lessons must be learnt from recent quakes: Experts
Nainital, March 9
Experts in disaster management are of the opinion that it is high time that lessons be learnt from the recent earthquakes in Haiti, Chile and the one recorded in Turkey on Monday.
ONGC holds sports competition for women
Dehradun, March 9
Women's sports competition was organised by the Employees Welfare Committee (EWC), ONGC, Dehradun, at Dr Ambedkar Stadium. A large number of housewives and women employees of the ONGC participated in the different events organised for employees and housewives separately in categories under 45 years and above 45 years.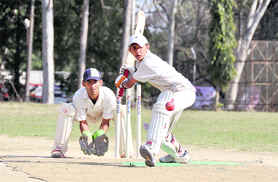 Maharana Pratap Sports College enter semis
Dehradun, March 9
Maharana Pratap Sports College (MPSC) has made to the semifinals of the Jitendra Anand Memorial Cricket Tournament underway at OFD Ground here today. In the quarterfinal match it defeated the DRCA team by three wickets.

A match in progress at the Jitendra Anand Memorial Cricket Tournament in Dehradun on Tuesday. A Tribune photograph

ONGC donates mobile van to NGO
Dehradun, March 9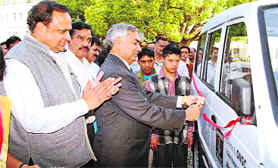 The ONGC has donated a mobile van costing Rs 5.48 lakh to Gokul, an NGO engaged in service of physically challenged people in the state. Sundar Lal, Group General Manager-Chief, Employee Relations and Head, Corporate Administration, ONGC, handed over the keys of the van to Madhu Maikhuri, Secretary, Gokul, amidst a gathering of ONGC officials at a function held at Tel Bhawan here.
Sundar Lal, Group General Manager, Employees Relations and Head Corporate Administration, presents a mobile van to Gokul, an NGO for the disabled in Dehradun on Tuesday.

Joshi elaborates on Vedic connection with maths
Dehradun, March 9
Prof Hans Raj P Joshi, Prof of Mathematics at York University, Toronto, Canada, addressed ICFAI students and delivered a talk on "Fascinating Mathematical Concepts in Vedic Scripture" here today.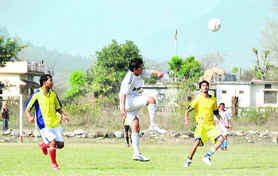 COI Roorkee, Dev Bhoomi in soccer final
Dehradun, March 9
COI Roorkee and Dev Bhoomi will meet in the final of the Uttarakhand Technical University Football Tournament here tomorrow. In the first semifinal, COI Roorkee defeated UIT 1-0 and in the second semifinal, DBIT defeated Graphic Era in a close encounter 3-2.
A semifinal of the Uttarakhand Technical University Football Tournament in Dehradun on Tuesday. A Tribune photograph

Kavi sammelan marks union week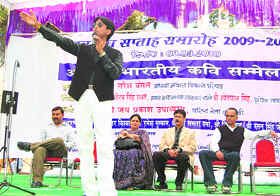 Dehradun, March 9
On the fourth day of the DAV (PG) College union week, a kavi sammelan was organised here today. Amid merriment, students had a gala time in the presence of Dr Kumar Vishwas, famous poet of Lucknow, Ramesh Muskaan, Mamta Sharma of Ghaziabad, Vishwanath from Dehradun and Anil from Bijnor.
Dr Kumar Vishwas, a poet, recites a poem at the union week of DAV PG College in Dehradun on Tuesday. A Tribune photograph

Play staged
Dehradun, March 9
Under the aegis of Libra Law College a play titled "Female Foeticide" was staged at the Jhanda Mela here today. As a part of the Beti Bachao campaign, through the medium of play, artists discussed the importance of the PC-PNDT Act of 1994. Besides discussing the act, they stressed on the falling sex ratio.