Encroachers thrive in Chief Minister's locality
Dehradun, March 16
It seems even the locality of Yamuna Colony where Chief Minister Ramesh Pokhriyal Nishank and other important dignitaries of the state live are not safe from encroachers. Their audacity tells a tale of apathy and inaction of the Dehradun Municipal Corporation (DMC), which is responsible for controlling the encroachment menace in the city.
Nav Samvatsar Snan: Millions visit Haridwar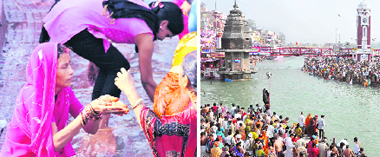 Haridwar, March 16
A day after a successful completion of the second Shahi Snan of Somwati Amawasya, the mela administration and police personnel were seen in a relaxing mood today.
Devotees perform rituals on Ganga ghats in Haridwar on Tuesday. Tribune photos: Rameshwar Gaur

IMA painting contest brings out hidden talent of kids
Dehradun, March 16
Victory is always intoxicating for the winner. Even a three-and-a-half-year child, Harsh, can feel the ecstasy of being the best among all, as he clearly tells someone: "I have won the first prize in the painting competition".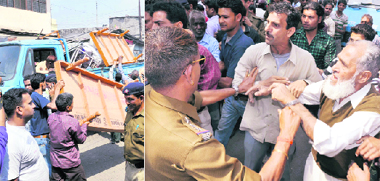 Anti-encroachment Drive
Kiosks razed from busy markets
Dehradun, March 16
Traders and kiosk vendors in the busy markets of the city continue to play hide and seek with the police.
An anti-encroachment drive in progress; and (right) shopkeepers argue with police personnel during the drive in Dehradun on Tuesday. Tribune photographs

Sanskar Bharati celebrates Hindu New Year
Dehradun, March 16
On the occasion of commencement of the Hindu New Year, Sanskar Bharati, made celebrations by performing cultural programmes and chanting hymns (bhajans) at Nath Palace here today. The event was a coalition of fun-filled cultural programmes, folk dances and devotional songs. A large number of people attended the function.


Sunscreen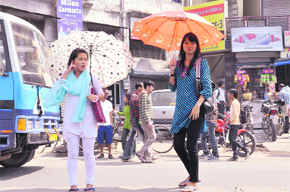 With temperature rising above 30°C, girls carry umbrellas to protect themselves from the sun in Dehradun on Tuesday. Tribune photo: Vinod Pundir

Tributes paid to Sarojini Naidu
Dehradun, March 16
On the birth anniversary of Sarojini Naidu, the University Women's Association (UWA) of Dehradun distributed scholarships to meritorious girl students of various city colleges on the premises of Mahadevi Kanya Pathshalaya (MKP) here today.
MPG College panel discusses land lease issue
Mussoorie, March 16
The much-awaited MPG College Management Committee meeting was held on the college premises to discuss issues related to the college.
Beehive College holds national conference
Dehradun, March 16
The Beehive College of Management and Technology in association with the All-India Council of Technical Education (AICTE) is organising a national conference from March 19 onwards in Dehradun. The two-day conference will focus on information integrity, supply chain management, global competitiveness of corporate and corporate survival strategies as its main theme.
Pensioners thank CM
Dehradun, March 16
After receiving the decision in their favour, the Uttarakhand University College Pensioners Federation held a meeting at Pandit Deendayal Upadhyay Auditorium of DAV College here yesterday.
CAU to select team for Gold Cup
Dehradun, March 16
The Cricket Association of Uttarakhand (CAU) has decided to select the state teams that will participate in the All-India Uttaranchal Gold Cup tournament, from an inter-district tournament, which is to be organised few weeks ahead of the Gold Cup.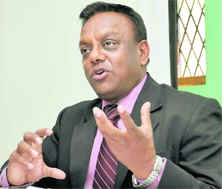 Now, migraine finds pain reliever in ayurveda
Dehradun, March 16
Scores of people in the urban world suffer from migraine symptomatic of throbbing pain concentrated mostly in one particular area of the forehead or neck. But the exact nature of the disabling disease has confounded both the patient and the medical fraternity, which mostly labels it as a neurological disorder.
Vaidya Balendu Prakash of the Vaidya Chander Prakash Research Foundation addresses the media in Dehradun on Monday. A Tribune photograph

Public address system stopped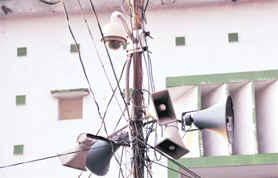 Dehradun, March 16
Managing the traffic from the control room through the public address (PA) system has been stopped following complaints by people of its making too much noise. These speakers were installed, along with CCTV cameras, at prominent crossings of the state capital about a year-and-a-half ago.
Public address speakers installed by the Dehradun police at various intersections are not being used. A Tribune photograph

Students get lessons of life through films
Nainital, March 16
Students of the renowned All Saints' College have been undergoing a unique learning experience in the form of a 15-day workshop on "Films as a Form of Art". The workshop is being conducted by Rajesh Shah and Shalini Shah who were involved in making documentaries and short films.
Doon Cricket Academy to hold U'khand Cricket Cup
Dehradun, March 16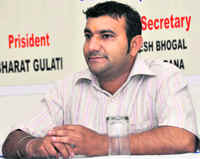 Doon Tiger Cricket Academy will organise IIIrd Uttarakhand Cup Cricket Tournament from March 21. The tournament is expected to witness teams from other states as well. In all 16 teams will participate at the tournament. President of Doon Tiger Cricket Academy, Bharat Gulati said they have been sincerely working for the improvement of cricket in Dehradun.
Bharat Gulati, President of Doon Tiger Cricket Academy addresses a press conference in Dehradun on Tuesday. A Tribune photograph

Women discuss gender bias issue
Dehradun, March 16
The resonance of the Women's Reservation Bill passed in the Rajya Sabha is still fluttering in the city as "Prerna" held a meeting discussing the issue of gender discrimination and disparity at Maliah House here on Sunday.