Legacy of a legend
As the nation readies to pay homage to Shaheed Bhagat Singh, Amarjit Thind reports from Khatkar Kalan about the state of the freedom fighter's native village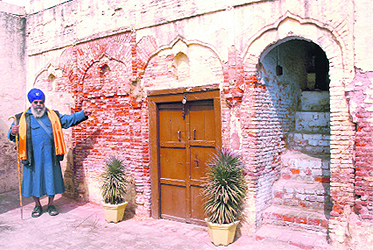 As a grateful nation prepares to observe the 79th death anniversary of the Shaheed-e-Azam on March 23, the observations of the young martyr in his notebook while awaiting imminent death are a reminder about what still needs to be done to ensure such equality in an increasingly imbalanced world.
A villager shows a crumbling wall at the ancestral house of Shaheed Bhagat Singh in Khatkar Kalan village, near Banga. Photo by Malkiat Singh

Beyond borders
Martyr resurrected in Pakistan
Sarbjit Dhaliwal
Shaheed Bhagat Singh, who was almost forgotten in Pakistan, is now resurfacing in that country. Though all — the Hindus, Sikhs and Muslims and others — fought together for the freedom of India but after Partition in 1947, the Pakistan establishment had blacked out the "Indian" martyrs.
Revolutionary reloaded
From Orkut and Facebook to stage shows, there are many platforms through which today's youth connect with the legend of Bhagat Singh, writes Mehak Uppal
How mosquitoes find a host
The scientists of the Agricultural Research Service (ARS) have found how the potentially deadly yellow-fever-transmitting Aedes aegypti mosquito finds a host. They have discovered that the mosquito detects the specific chemical structure of a compound called octenol as one way to find a mammalian host for a blood meal.
Latest extreme sport
Alligator wrestling
Wrestling in the US is no more confined to the ring-fighters are now trying their might against the strength of alligators in a pool. Florida's Freestyle Alligator Competition, a brainchild of James Holt, aims to transform the tribal tradition of alligator wrestling into an extreme sport.
Force to reckon with
The BSF has raised a massive armed female contingent to guard the country's borders, and plans to recruit another 35,000 women in the next four years. The country is in safe, strong hands, writes Ajithas Menon

Dress cool on Fridays
Whatever you choose to wear on weekends, keep a balance between office decorum and personal dress sense, says Banalata Bipani
Friday dressing has already come to be accepted as a part of the Indian corporate culture. Characterised by loose, colourful shirts with large armholes, soft collars and low back yokes — with trousers and shoes to match — it is designed to take the young male executive straight from the boardroom to the bar during weekends.
Call of the wild
Ranthambore National Park offers a perfect getaway far from the madding crowd, writes Mukesh Khosla
Tired of the city life with its inherent plumes of toxic smoke and jostling crowds? Looking for the perfect getawayfromit all? Well, it is none better than a wildlife sanctuary. A number of tourists are now shunning the crowded hill stations and are flocking to these sanctuaries, which provide a superb ambience of the jungle life.
The rebel traditionalist
"Change is a law of nature. It is important for us to grow." Be it fusing sounds of veena with the guitar or making meaningful fusions to the delight of music aficionados across the world, or at home, Pandit Vishwa Mohan Bhatt has always brought changes aimed to help the cause of music. No matter, how much the conservatives scoffed at them in the beginning, he proved them all wrong.
A visionary filmmaker
Chandigarh-born Tarsem Singh Dhandwar, whose film The Fall has received critical acclaim, is one of the most prolific and stylistic visual artists of recent times, writes Shakuntala Rao
Few people in India know of Tarsem Singh Dhandwar and his extensive body of work. And that is a pity. Fortysix-year-old Tarsem, as the filmmaker prefers to be called, was born in Chandigarh, grew up in Mumbai and Tehran (where his father was an engineer for the Iranian airlines), educated at the Art Centre College of Design in Pasadena, California, and currently splits his time and homes between London and Los Angeles.
'I balanced glamour and serious acting'
Be it flaunting a bikini in the 1960s, marrying a nawab, or heading the Censor Board, Sharmila Tagore has always been special in her own way. The actor in a chat with Sreya Basu
Anti-war saga
Kathryn Bigelow translates the blood and gore of war graphically in her unbelievably shattering Oscar-winning film The Hurt Locker, says Ervell E. Menezes