Every Wednesday & Saturday
Jobs for stone throwers?
Proposed policy stirs debate
Srinagar, March 23
After the rehabilitation policy for the "misguided youth" who had crossed over the Line of Control (LoC) to take up arms training and were willing to return, the state government is working on a policy to rehabilitate stone pelters in the valley.
Bhagat Singh continues to inspire
The legendary figure's fearless attitude and profound ideology make him an icon for eternity
Jammu, March 23
The martyrdom of firebrand revolutionary Bhagat Singh continues to inspire people cutting across age and professions. Be it a student or an octogenarian, Bhagat Singh is an icon for all. Several associations in his name have been doing social work to promote his messages, endorsing a system free from exploitation of weaker sections and based on equality and justice.
Jasrota Park in a shambles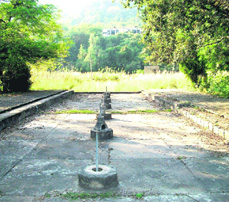 Jammu, March 23
Contrary to the government's claims of having launched a massive drive to woo tourists, most parks and gardens at district and tehsil headquarters here are lying in bad shape.
The Jasrota Park near Rajbagh in Jammu. Photo by the writer

Speaking Out
Need for foolproof examination system
Students appearing in the class XII examinations are peeved about the incident of paper leaking and subsequent cancellation of English B paper. TNS talked to a few Jammu-based students. This is what they had to say: