PUNJAB
HARYANA
JAMMU & KASHMIR
HIMACHAL
REGIONAL BRIEFS
NATION
OPINIONS
LETTERS
BUSINESS
SPORTS
WORLD
Every Wednesday & Saturday
Inter-district recruitments create Cong-NC divide
Jammu, March 16
Even as the controversial Jammu and Kashmir Women Permanent Residents Disqualification Bill has already developed cracks within the ruling coalition, the issue of inter-district recruitment has created regional divide besides inner party differences within various political groups.
Jammu railway station saviours forgotten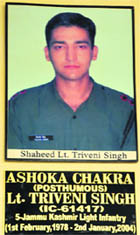 Jammu, March 16
Over six years after four security personnel laid down their lives saving the Jammu railway station from a massive fidayeen attack, the Railways as well as the city have forgotten to remember the martyrs. What to talk of a memorial at the railway station, there is not even a semblance of remembering their supreme sacrifice. Notable among those who achieved martyrdom was Lieutenant Triveni Singh, a Dogra from Pathankot, and an alumnus of Punjab Agricultural University (PAU), Ludhiana, who also won the Ashok Chakra.
Severe water crisis stares Kandi areas in the face
March 13, 2010
Staff shortage hits NREGA scheme
March 10, 2010
'Decentralisation of power only solution to Kashmir problem'
March 6, 2010
20 yrs on, farmers await land compensation
February 27, 2010
Electricity a luxury in Power Minister's hometown
February 24, 2010
It's curtains on e-learning kiosks
February 20, 2010
Rare, historical books missing from library
February 17, 2010
Govt considering metro service for state: Omar
February 13, 2010
Outdated info on govt website
February 10, 2010
Hailstorm, dry spell dash farmers' hopes
February 6, 2010