PUNJAB
HARYANA
JAMMU & KASHMIR
HIMACHAL
REGIONAL BRIEFS
NATION
OPINIONS
LETTERS
BUSINESS
SPORTS
WORLD
Every Wednesday & Saturday
Govt considering metro service for state: Omar
Jammu, February 12
The Jammu and Kashmir government is planning to start Metro rail service here and in Srinagar, Chief Minister Omar Abdullah said.
KU research work a click away
Srinagar, February 12
The University of Kashmir has made available research contributions of three academic and research institutions online in the form of an "open access repository." With this, research contributions of faculties, scholars and scientists in the University of Kashmir, Sher-I-Kashmir Institute of Medical Sciences (SKIMS), Soura, and the Sher-e-Kashmir University of Agricultural Sciences and Technology (SKUAST), Kashmir, have been put on the website.
Separate board for OBCs soon
Jammu, February 12
The state government will constitute a separate board for other backward classes to help accelerate the pace of their development.
Tea with The Tribune
Art is all inspiration, says Jamwal
In a tete-a-tete with The Tribune team, Ravinder Singh Jamwal, famous sculptor and teacher with the Institute of Music and Fine Arts, Jammu, shares his thoughts on various issues
Ravinder Singh Jamwal is a sculptor of international repute. His creations dot the state. From sculptors decrying militancy to memorials of heroes like Gen Zorawar Singh and Brig Rajinder Singh and Gen Bikram Singh at the Vikram Chowk, Jamwal has given a variety of rich heritage to the state, particularly Jammu.



Ravinder Singh Jamwal, famous sculptor; and members of The Tribune team and DPS students in conversation in Jammu. Photos: Inderjeet Singh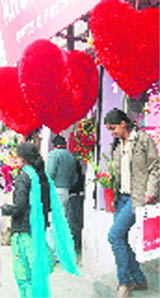 With Valentine's Day just a day away, this girl comes out of a shop happily after selecting her pick for the D-day. Photo: Inderjeet Singh
Outdated info on govt website
February 10, 2010
Hailstorm, dry spell dash farmers' hopes
February 6, 2010
CRPF launches welfare project for girl child
February 3, 2010
CM's online grievances cell a hit
January 30, 2010
Areas near Bakshi Stadium wear security blanket
January 26, 2010
Kashmiri women at the receiving end
January 23, 2010
Custodial death case turns into family drama
January 20, 2010
Punjab, Haryana feed milk to Jammu, Srinagar
January 16, 2010
Justice Saghir Ahmed report triggers protests
January 9, 2010
Kundi connections damage transformers
January 2, 2010