PUNJAB
HARYANA
JAMMU & KASHMIR
HIMACHAL
REGIONAL BRIEFS
NATION
OPINIONS
LETTERS
BUSINESS
SPORTS
WORLD
Every Wednesday & Saturday
Kundi connections damage transformers
Jammu, January 1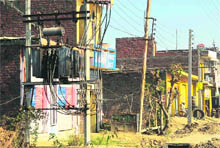 With the winter comes an extra burden on the power distribution system of the state as people resort to 'kundi' connections, increasing load on the electric infrastructure.

A transformer in a Jammu area where kundi connections are rampant. Photo: Inderjeet Singh

Cultivation of illegal crops taking roots in state
Jammu, January 1
With militancy on its last leg, it seems that the Kashmir Valley in particular and the state in general has a new problem to grapple with - illegal cultivation of drug-oriented crops, particularly opium plants.
Artisans from other states doing brisk business
Jammu, January 1
With local artisans taking to other jobs, craftpersons from outside the state are having a good business in the Jammu region. These days, a large number of sifters (chaaj), carpets and broom makers are in the city for selling their products with complete monopoly.
Scarcity fuels illegal water business
December 26, 2009
SDM office, cops encroach upon Akhnoor Fort land
December 23, 2009
'Professionals' at work in Kashmir valley
December 19, 2009
A journey from farmer's house to SSP office
December 16, 2009
Musical event at stadium draws ire
December 12, 2009
Direct rail link to Katra still a distant dream
December 9, 2009
State fails to cash in on its natural resources
December 2, 2009
All 'wired up' in Jammu
November 28, 2009
With winter comes power shortage in Kashmir
November 25, 2009
Price rise, faulty PDS hit aam aadmi
November 21, 2009
Govt not keen on forming commission
November 18, 2009