PUNJAB
HARYANA
JAMMU & KASHMIR
HIMACHAL
REGIONAL BRIEFS
NATION
OPINIONS
LETTERS
BUSINESS
SPORTS
WORLD
Every Wednesday & Saturday
With winter comes power shortage
in Kashmir
Srinagar, November 24
Every year, at the onset of winter, the issue of power supply and smooth flow of essential commodities, mainly cooking gas, comes to the fore with the government assuring all possible measures to ensure their supply.
Jammu to enforce smoking ban strictly
Jammu, November 24
The local administration has taken up the issue of smoking at public places strictly. It is taking stringent measures to ensure that nobody is allowed to violate the law.
People brave cold to meet babus, netas
Jammu, November 24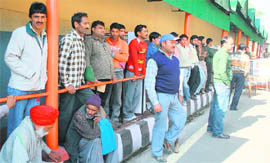 First, people waited for six months for Darbar secretariat to come to the winter capital from Srinagar, now they have to wait for hours to meet their 'babus' and 'netas'.
People wait outside the secretariat in Jammu. Photo: Inderjeet Singh

Price rise, faulty PDS hit aam aadmi
November 21, 2009
Govt not keen on forming commission
November 18, 2009
Govt out to rescue child labourers
November 14, 2009
Darbar moves to 'city of protests'
November 11, 2009
Over 3,500 killed in Jammu region in 5 yrs
November 7, 2009
Jammu gangs at death's door
November 4, 2009
Katra stinks, courtesy untreated garbage
October 31, 2009
Reasi suffers water pangs
October 28, 2009
Norms for setting up phone towers sought
October 24, 2009
Sex ratio alarming at sub-dist level
October 21, 2009
Staff want arrears in full, govt says not possible
October 14, 2009