PUNJAB
HARYANA
JAMMU & KASHMIR
HIMACHAL
REGIONAL BRIEFS
NATION
OPINIONS
LETTERS
BUSINESS
SPORTS
WORLD
Every Wednesday & Saturday
Punjab, Haryana feed milk to Jammu, Srinagar
Jammu, January 15
Even as officials claim better avenues in dairy farming at the local level, the capital cities of Jammu and Srinagar mostly rely upon Punjab, Haryana and Rajasthan for milk and milk products. This is evident from the fact that a number of trucks, carrying over 100,000 liters of milk enter the state at Lakhanpur daily.
Tea with The Tribune
'Arts, culture in wrong hands'
In a tete-a-tete with The Tribune team, Mushtaq Kak, theatre director and actor, shares his thoughts on various issues Born to a Dogra mother and a Kashmiri Muslim father, Mushtaq Kak has carved a niche for himself in the film industry.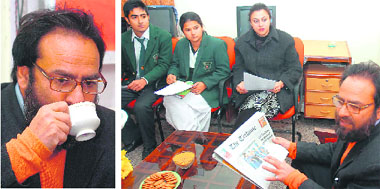 Mushtaq Kak, theatre director and actor; and (right) members of The Tribune team and DPS students in conversation at Jammu. Photos: Inderjeet Singh
Justice Saghir Ahmed report triggers protests
January 9, 2010
Kundi connections damage transformers
January 2, 2010
Scarcity fuels illegal water business
December 26, 2009
SDM office, cops encroach upon Akhnoor Fort land
December 23, 2009
'Professionals' at work in Kashmir valley
December 19, 2009
A journey from farmer's house to SSP office
December 16, 2009
Musical event at stadium draws ire
December 12, 2009
Direct rail link to Katra still a distant dream
December 9, 2009
State fails to cash in on its natural resources
December 2, 2009
All 'wired up' in Jammu
November 28, 2009
With winter comes power shortage in Kashmir
November 25, 2009
Price rise, faulty PDS hit aam aadmi
November 21, 2009