Jewellery made of recycled clothes at women crafts mela
New Delhi, March 24
A two-day exhibition showcasing works by women artisans from across the country began at the American Center here today. The American Center, Self-Employed Women's Association (SEWA) and All-India Artisans and Craft workers' Welfare Association (AIACA) have partnered with 14 leading craft enterprises from across India to showcase the best of craft traditions at the two-day mela.
Woman moves court for daughter taken away by husband
New Delhi, March 24
A woman has filed an application before a Delhi court, asking it to issue a search warrant for her minor daughter, who, she claimed, was forcibly taken away by her estranged husband.
'Organisations insensitive to sexual harassment'
New Delhi, March 24
"Big organisations don't mind losing an efficient female worker, but the thought of losing a CEO or a manager on the grounds of sexual harassment scares them. Everyone, including the government.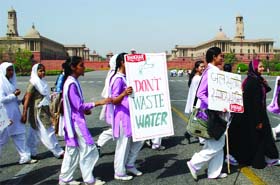 Schoolchildren and their teachers march in front of the Rajpath during a 'Save Water' campaign in New Delhi on Wednesday. Tribune photo: Mukesh Aggarwal
B.Tech., most popular at Jamia this year
New Delhi, March 24
As the admission season goes on in full swing at Jamia Millia Islamia, B.Tech. in engineering has emerged as the top choice of students. Around 8,500 forms for the course have already been sold.
DTU students call off stir, for now
New Delhi, March 24
In a probable end to the crisis at Delhi Technological University (DTU), the students have finally decided to take back their agitation and return to classes. A firm stand by the state government, which categorically refused to consider students' demand of reverting DTU to Delhi University, has forced protesting students to devise a new strategy.
Actor held for murders
New Delhi, March 24
A 26-year-old part-time actor, Rahimuddin Hasmi who was acted in films like-'My Friend Ganesha Part-2' and TV serials, was arrested last evening for allegedly being involved in two murder cases.
20 injured as bus overturns
New Delhi, March 24
About 20 people, including a bus driver, were injured in an accident when a TATA-407 bus carrying nearly 35 passengers overturned in the Preet Vihar area of east district this morning. Police said that the incident was reported around 7.35 am from the Karkari Mode area of Preet Vihar.


Metro crane topples, 2 hurt
New Delhi, March 24
Two persons have sustained injuries after a mini-crane Hydra toppled over and fell on an autorickshaw at a Delhi Metro construction site in Sarita Vihar today. The incident took place at Alimore around 4.30 pm between Mohan Estate and Tughlaqabad Metro stations on Central Secretariat to Badarpur line.
Restoration work under way after a mini-crane fell on an autorickshaw at a Metro construction site in Sarita Vihar, New Delhi on Wednesday. Tribune photo
Blind Hansraj student was not murdered: Cops
New Delhi, March 24
A month and a half after the investigation into the 'murder' of Mukesh Kumar Bhangel, a visually impaired student of Hansraj College, who was found hanged in his hostel room on February 9, police believes that there was no foul play in the incident and he committed suicide.
Home ministry official goes missing
Had left home to withdraw money
New Delhi, March 24
A home ministry official has gone missing this afternoon. He left home in Vikaspuri to withdraw money from an ATM, police said today.
Infrastructure will be Games' legacy: CM
New Delhi, March 24
The launch of cleaner Euro-IV fuel is a historic event and a step towards making Delhi a world-class city, said Chief Minister Sheila Dikshit toady. "This is second step after introduction of CNG to make city air cleaner," said Dikshit while launching the fuel.
12-yr-old shot at in marriage revelry
New Delhi, March 24
A 12-year-old boy was accidentally shot at during celebratory firings at a marriage function in Tejpur village of outer Delhi yesterday. The Alipore police has registered a case.
Class XII student commits suicide
New Delhi, March 24
A 17-year-old student, reportedly depressed over poor performance in Class XII examinations, yesterday evening allegedly committed suicide at his residence in south-east Delhi.
Doctor hangs self
New Delhi, March 24
A 33-year-old homeopathic doctor allegedly committed suicide by hanging himself from a ceiling fan in the Krishna Nagar area of east district today afternoon. The police said that the incident was reported around 1 pm from Kanti Nagar area of Krishna Nagar.