M A I N N E W S
A Tribune Investigation
Grants go down the drain, centres double but children missing
Punjab takes poor children for a ride
Chitleen K Sethi
Tribune News Service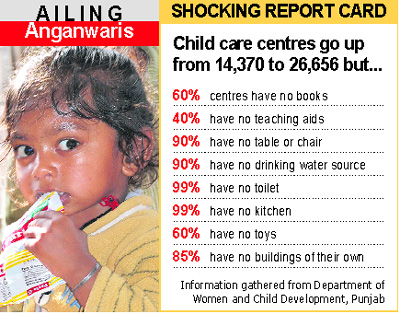 Chandigarh, March 24
The number of anganwaris in Punjab has almost doubled in the last three years. While there were 14,370 of them in 2007, the number is now pegged at 26, 656. But paradoxically the number of children being attended to in these centres has gone down sharply, by as much as half by all accounts.
Hargobind Kaur, the state president of Anganwadi Mulazim Union (AMU), has an explanation. There has been an increase in the number of model schools in villages and slum areas and therefore parents prefer to send their children to these schools. But then why has the number of anganwaris gone up then? There is no explanation.
Visits to some of the anganwaris by The Tribune correspondents confirmed the trend. In Goniana Khurd (Bathinda) two dozen Dalit children are enrolled in the register but only seven were physically present. In Mohali five to six children were found to be the norm while at Dera Bassi parents had no interest in sending their children to anganwaris.
They can hardly be blamed. Although the state government spends Rs 230 crore annually to maintain these centres, as much as Rs 130 crore go in paying honorariums to the 'workers and helpers', who, however, are under the impression that they are temporary government employees who would be made permanent one day.
The government's own figures are abysmal. Not a single centre in the state has access to a kitchen. Only 10 per cent have access to drinking water. Only one per cent have toilets.
In reality the conditions seem even more miserable. "The centres are hot and stuffy. I go with my child, collect whatever food is made available and return," says Jaswant Kaur. In Kharar a resident claimed that dried milk powder meant for children was being sold to sweet shops. In villages on the periphery of Chandigarh, anganwari workers too were found mostly absent.
The minister for women and child development, Chaudhry Swarna Ram, pleads helplessness. " I cannot dismiss even one worker or helper. It is the village panchayat which has to ensure that the centre is run properly," he told The Tribune while admitting that the centres lack facilities and that he routinely gets to hear instances of corruption at these centres.
The "job" of a worker, who gets an honourarium of only Rs 2,100 per month, is apparantly attractive enough for people to even dole out Rs 70,000 as bribe for it. The issue rocked the Vidhan Sabha recently.
Judging by the conditions in the anganwaris, there seems to be little improvment in the health of the needy children or women. As many as 80 per cent of children and 38 per cent of Punjab's women were found to be anaemic by the National Family Health Survey (2005-2006) released in August 2009.
At the anganwaris children and expectant mothers are to be provided with nutritious food, immunisation and counselling besides seeing the mother through the period of lactation. The centres are also expected to take care of the children's health and pre-schooling.But the state government also admits that 40 per cent of the centres do not have any teachingaids. The department also acknowledges that 60 per cent of the centres have neither books nor toys or even the elemntary abascus or the counting beads for children.Not surprisingly though the programme has lofty and ambitious aims. It seeks to provide freshly cooked food attractive to children (but the allocation is Rs 4 per day for each beneficiary), diversified on different days of the week and fortified with essential micronutrients such as iron and vitamin A.
The management and supervision of these centres also leave much to be desired with Deputy Commissioners apparently paying no attention to them. " The centre has shifted four times in a year," informed a worker at a centre in Fatehgarh Sahib. The workers claim to be overworked and complain that they are forced to complete lots of paperwork.
" Instead of distributing the food stock at the centres, they are all dumped at one place and we bear the cost of transportation," complained a worker in Jalandhar. Although most of them seem ill-trained, they are loath to let go of their honorarium. At pains to retain their job, the workers and helpers go round villages to persuade parents to enroll children.
Those who do turn up at the centres sit on tattered mats on the floor, from 9 am to 1 pm, with equally tattered posters and broken toys as company.
(With inputs from Kanchan Vasdev, Neeraj Bagga, Rajaydeep, Megha Mann, Gurdeep Mann, Riva and Rajiv Bhatia)
(Concluded)