Leaking Roof
Girls spend night at warden's house
Chandigarh, March 25
Panjab University's tall claims of revamping hostel infrastructure fell flat yesterday when two girls of the Hostel No. 4 were forced to spend a night at the warden's house due to the leaking roof of their hostel room.
Brilliant career cut short in USA
Chandigarh, March 25


A star is born." This was how the director of the department of Astronomy and Physics, where he was studying, described him when he first set his foot in the Lousiana University in the United States. Aiming to soar high, Sarvnipun Chawla, a silver medalist graduate from Panjab Engineering College (PEC), had moved to Lousiana with numerous dreams in his eyes which were put to an abrupt end on March 15 when he fell from one of the university buildings.
Sarvnipun Chawla
Police Complaints Authority for UT
New Delhi, March 25
The Union Home Ministry today decided to set up a Police Complaints Authority in all the Union Territories including Chandigarh, Delhi and Puducherry, among others.This is in line with the Supreme Court directions in the famous and oft-quoted case of Prakash Singh & Union of India.


14 persons hurt in collision
Zirakpur, March 25
More than 14 passengers, including five women and two children travelling in a mini-bus, were injured after their bus collided with a multi-axle trailer at the Dhillon factory light point here today.
The mini-bus that met with an accident on the Ambala-Chandigarh road; and (above) an injured at the Civil Hospital, Dera Bassi, on Thursday. Tribune photographs
Killer stretch: Authorities fail to act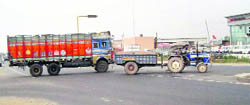 Zirakpur, March 25
At least 14 passengers, who were travelling in a mini-bus, sustained injuries on the killer stretch between Zirakpur and Lalru today. The bus collided with a multi-axle trailer near Dhillon factory light point.
Despite the accident that took place on the Ambala-Chandigarh road near Dhillon factory light point on Thursday, commuters continue to cross the road recklessly. The absence of traffic cops is an open invitation to more such accidents. A Tribune photograph
Reprieve for JP Associates
Granted stay against MC orders to forfeit bank guarantee
Chandigarh, March 25
In a temporary relief to Jai Prakash Associates, the court of Additional District and Sessions Judge Raj Rahul Garg today granted a stay against the Chandigarh Municipal Corporation orders to forfeit the bank guarantee.
Eyewitness Account
GMCH staff could do with a little more courtesy


Chandigarh, March 25
Compared to the Government Multi Specialty Hospital, Sector 16, the Government Medical College & Hospital (GMCH) in Sector 32 is vast, both structurally and infrastructure wise. Hence expecting problems and shortcomings there too to be huge is only logical.
NRI's family suspects foul play
Wanted to settle in India after racial attack in Australia


Panchkula, March 25
Devinder Singh Rawat, an Australian NRI, who was found dead in Morni yesterday, had planned to settle here after he had faced a racial attack in Melbourne last year. The body of Devinder (30) was found hanging from a tree in the forest area in Morni yesterday. Devinder had a decent property in Australia, but he was not willing to go there after his return to India on Diwali. He had been trying his luck in the real estate business, said his brother Varinder Singh.



Devinder Singh Rawat
MC mulls hike in fine, feeding charges
Chandigarh, March 25
After failing to check the stray cattle menace in the city, the Municipal Corporation plans to increase the fine and feeding charges on owners of these animals. The issue will be discussed in the House meeting scheduled for tomorrow.
Power board staff held hostage for 5 hrs
Panchkula, March 25
Entering Saketri village to check electricity theft proved costly to the employees of the Haryana electricity department when a team, including two SDOs, junior engineers and several linemen, was held hostage by residents here today.
Tribune Impact
Dept marks probe into illegal mining
Mohali, March 25
A few days after The Tribune highlighted several instances of illegal sand quarrying in Chandigarh's periphery, shocking incident of several trees of shisham, kikkar and neem being felled in the forest area has come to light.
Girl sustains burn injuries
Chandigarh, March 25
Rekha, a 16-year-old girl, sustained burn injuries when she caught fire at her thatched hut in Sector 19 here this afternoon where government apartments were being constructed.
Bilingual play staged to perfection
Chandigarh, March 25
The ambitions, aspirations, constraints and anguish of farming community constituting 70 per cent of the Indian population were brought alive in a bilingual play "The Land Weaver", which was staged to perfection at the open air theatre, Kalagram, here today.


PU Budget
Beautiful campus on mind, students given a miss
Chandigarh, March 25
Riding high on its "dream wagon", Panjab University in its recent budget allocation has come out with an ambitious makeover plan, which, ironically, has failed to address needs of students.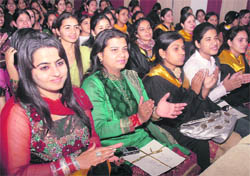 Girls in a jubilant mood after receiving degrees at the annual convocation function of Postgraduate Government College for Girls, Sector 11, Chandigarh, on Thursday. Tribune photo: Parvesh Chauhan
Birth Certificates
Council notice to DPI (S)
Chandigarh, March 25
The Global Human Rights Council today served a legal-cum-demand notice to the DPI (Schools) for having a standard policy regarding birth certificates of children. It is to be mentioned that government schools ask for original birth certificates from the students who approach them for admission in pre-nursery and nursery standard. Original certificates are not required for the students who are taking admissions in first standard onwards.
Vehicles go missing from PU
Chandigarh, March 25
After laptops it's vehicles, which have caught the fancy of thieves on Panjab University campus.