Govt promoting pvt firms: Youth Cong
Hamirpur, March 28
State president of the Youth Congress Man Mohan Katoch has accused the state government of allegedly promoting private business houses, ignoring the interests of the state.
Nalwar mela panel under scanner
RTI applicant denied expenditure info
Sundernagar, March 28
The week-long Nalwar cattle fair, that concluded here today, has turned into a "cultural extravaganza" with major part of Rs 34 lakh budget spent on it by the Nalwar Mela Committee (NMC).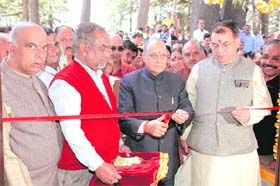 Chief Minister PK Dhumal inaugurates langar bhawan at Jakhu Temple in Shimla on Sunday. Tribune photo: Amit Kanwar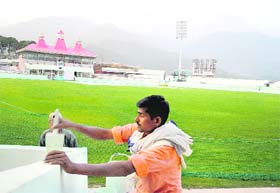 Work in progress at the HPCA stadium being readied for IPL matches at Dharamsala on Sunday. Photo: Kamaljeet
Pahari livestock breed faces threat
Sundernagar, March 28
Chief Minister PK Dhumal's recent clarion call to farmers to conserve Pahari breed of livestock sounds hollow as the Department of Animal Husbandry has maintained no register and has no scientific study available to motivate farmers to adopt organic farming, said veterinarians and cattle breeders.
Leopard escapes from rescue home, captured
Shimla, March 28
Panic ruled the peripheral areas of the city for about two hours as a leopard escaped from the rescue home at Tuti Kandi this afternoon and disappeared in the adjoining forests. This is for the second time as in the recent past also such an incident had taken place.
Mining in Neugal river goes unchecked
Palampur, March 28
Despite a ban imposed by the state government on mining and quarrying in the Neugal river, it is going unchecked. In January, the state government had imposed a blanket ban on mining in Neugal, keeping in view the damage being caused to 24 drinking water supply schemes tapped from the river.
Stray animal menace cause for concern
Palampur, March 28
Sudden increase in the number of stray animals in the town and its adjoining areas has become a matter of serious concern as they are seen roaming in the town and on highways day and night.
Agri season starts early in Lahaul-Spiti
Keylong, March 28
In what could be seen as an impact of global warming, high altitude Lahaul-Spiti district, which used to remain under snow as late as April end, is witnessing receding snowline, heralding an early start of agriculture season.
Girl commits suicide
Shimla, March 28
Ritu, a 28-year-old girl, allegedly committed suicide by hanging herself at her residence at Dandha near Tutu here today. Relatives of the girl alleged that she was forced to end her life after parents of the boy, with whom she was having an affair, turned down the proposal for marriage.
Two held with charas
Kullu, March 28
Two persons were arrested in two separate incidents under the Narcotics Drugs and Psychotropic Substances (NDPS) Act in Banjar and Manali subdivisions of the district today.
Panchayat pradhan, secy booked for funds misuse
Mandi, March 28
After receiving direction from the judicial magistrate at Sarkaghat under Section 156(3) of the CrPC, the police has registered a case of criminal breach of trust, forgery, cheating and criminal conspiracy against the pradhan and secretary of the Tikker gram panchayat in Sarkaghat subdivision.
House, cowshed gutted
Bilaspur, March 28
Loss of property worth more than Rs 11 lakh was reported in devastating fire incidents which suddenly erupted in a 10-room house and a cowshed at two separate places in villages near Ghumarwin yesterday.
Swing operator attacked
Sundernagar, March 28
Three persons attacked Maglu Singh, a swing operator at the Nalwar mela, last night with sharp-edged weapon and thrashed him severely. He was rushed to a hospital at Sundernagar.
Man crushed to death
Chamba, March 28
One person was crushed to death on the spot by a vehicle on the Chowari-Hobar road in Bhattiyat subdivision of the district last evening, according to a report received here today.