Semester System
School board hikes exam fee
Mohali, March 30
While introducing the semester system in the matric and senior secondary exams, the Punjab School Education Board has hiked examination fee substantially. The increase comes within a year of the previous revision last year.
Air pollution causes 200 premature deaths annually in Ludhiana: PGI
Chandigarh, March 30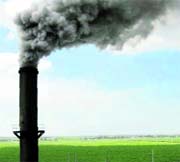 The adverse impact of air pollution on health are well known but the fact that about 200 people die prematurely every year in a city like Ludhiana - Punjab's financial capital- because of the polluted air they breathe in should come as a shocker. A study conducted by the Post Graduate Institute of Medical Education and Research (PGIMER) in 2002-04 on "Association of Air Pollution and Mortality" in Ludhiana, which was recently conferred the best paper award on Environmental Health Practice by the Indian Public Health Association (IPHA).
A traffic park with Nek Chand's imprint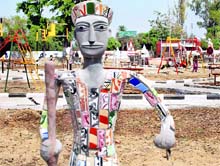 Nurpur Bedi, March 30
The under-construction traffic-cum-entertainment park here will adorn sculptures and murals of the creator of Rock Garden, Nek Chand. This is perhaps the first of its kind project, wherein Nek Chand's creations will be installed to beautify a traffic park. About eight life-size horse sculptures and 60 small murals are waiting to be installed at the park.


A Nek Chand creation at the park under construction in Nurpur Bedi. Tribune photo: Vicky Gharu

PNB employee siphons off Rs 48 lakh
Amritsar, March 30
Jaskirat Kaur, a computer operator with Punjab National Bank (PNB), has defrauded her employer of Rs 47.75 lakh. The police is yet to arrest the accused. Though the bank promptly terminated her services, it took the police a long time to register a case. Finally, on the recommendation of DSP (West) Ranvir Singh, the police registered a case on the complaint of then senior manager of the PNB branch at Pratap Steel Mill, Chheharta, where the accused was posted.
Despite change in merit, school teachers will stay on
Chandigarh, March 30
The services of Punjab school teachers belonging to the backward classes will not be terminated due to re-determination of merit and they will be allowed to continue against available vacancies.
Medical council to have more elected members
Chandigarh, March 30
An antiquated Act that overlooks the working of allopathic doctors in the state has been amended. Amendments that give more representation to both elected and nominated members in the enlarged body meet a long-standing demand of the Punjab unit of the Indian Medical Association.
Uranium: BARC, GNDU to conduct joint study
Bathinda, March 30
The Bhabha Atomic Research Centre (BARC) and Guru Nanak Dev University (GNDU) have decided to jointly study the presence of high levels of uranium in ground water in the state, reported the cause of abnormally high incidence of cancer. The study would begin within three months.
Punjabi poet Dr Jagtar dead


Jalandhar, March 30
Eminent Punjabi poet and ghazal writer Dr Jagtar is no more leaving his family, friends and legions of his admirers in grief. He was 75. He is survived by his wife and two daughters. Although he had not been in good health for the past many months, but was quite till for the past couple of weeks. Today, he was rushed to a nearby private hospital where doctors declared him dead on arrival.
'Fateh march' takes off from Nanded
Amritsar, March 30
Spirituality filled the air as the six-week- long historic Takht Hazoor Sahib (Nanded)-Fatehgarh Sahib 'Fateh march' to mark the 300th year of the Sirhind victory of Banda Bahadur took off from Gurdwara Banda Ghaat Sahib in Nanded today.
Farmers set to grow new potato varieties
Ludhiana, March 30
Having finally awakened to the need of the hour, state farmers are coming forward for diversification as was evident from their enthusiasm to grow Kufri Frysona and Kufri Surya, the varieties of potato developed and released by the Central Potato Research Institute (CPRI).
11 yrs on, CBI to probe Amritsar 'custodial death'
Teen died within hours of being detained in the lockup
Chandigarh, March 30
Nearly 11 years after teenager Gurtez Singh was allegedly killed in the custody of Amritsar Police, Justice SD Anand of the Punjab and Haryana High Court has asked the Central Bureau of Investigation to probe the "custodial death".
Tainted Cops
Punjab to file affidavit
Chandigarh, March 30
The Punjab and Haryana High Court today directed the state of Punjab to file a detailed affidavit on the number of cases against the police officials deployed on key positions, despite being named or charge-sheeted.