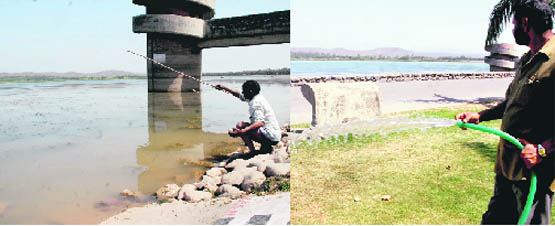 While Sukhna Lake's level has been receding over the years, an employee of the UT administration draws water from the lake to water a lawn on Thursday. The lawn and trees at the Sukhna Lake Complex are watered for about six hours daily.
Tribune photos: Manoj Mahajan
Tribune Impact
GMSH doctors to face probe
Chandigarh, April 1
UT's Director Health Services today ordered a departmental inquiry against two senior doctors, Dr Vinay Ved Vyas (medicine) and Dr NK Kaushal (surgery) working at the Government Multi Speciality Hospital, Sector 16, who were selectively recommending private diagnostic centres to patients for tests even though these were available at the hospital at far lesser cost.
Filial Duty
Father told to pay disabled son maintenance
Chandigarh, April 1
A man has been ordered to pay his 33-year-old mentally and physically challenged son a monthly maintenance of Rs 5,000 after the latter took him to court for shunning and treating him as a burden.
Mystery fever grips P'kula
24 affected; water found fit for human consumption
Panchkula, April 1
An undiagnosed disease in various sectors of the town has baffled residents. At least two dozen persons are down with fever. They say impure drinking water is the cause.
Industrial Area heads for disaster
Chandigarh, April 1
Development is coming at a heavy price for the Industrial Area in Chandigarh. Conceived to be the industrial hub of the city, the Industrial Area (Phase I and II) is heading for a major infrastructural disaster in the backdrop of the controversial conversion policy of the Chandigarh administration.
PGI probe into ceiling collapse
Chandigarh, April 1
It could well be called a day of inquiries at the PGI as the hospital authorities ordered two separate probes today -- one into the collapse of false ceiling of the mess on the old doctors' hostel campus late last night and the other into the allegations of misbehaviour by some contractual sanitation staff with the attendants of a patient admitted to the advance cardiac centre for a bypass surgery.
Admn starts e-tendering
Chandigarh, April 1
The UT Administration has initiated the e-tendering process from today.
Plan to lure goesawry for 'godmen'
Chandigarh, April 1
A 'tantrik' landed himself in trouble while two associates of his managed to escape when an alert resident foiled their bid to befool him at his residence in Sector 39 here.
Sofat to become PO
Panchkula, April 1
The worries for Dr Sumit Sofat, an accused of attempt to murder of his driver, are to increase again as the Panchkula police has decided to initiate proceedings to declare him a proclaimed offender.
Banks to give Rs 1,555-cr loan to Panchkula
Panchkula, April 1
In order to provide loans to agriculture sector and weaker sections of society in this district, the District Credit Plan (2010-11) was formally launched by Deputy Commissioner Pankaj Yadav here today.
Consumer gets Rs 4 lakh power bill
Zirakpur, April 1
A Dhakoli resident got the shock of his life when he received the residential electricity bill of about Rs 4 lakh from the Punjab State Electricity Board (PSEB).


PU Senate
Students will have to wait for their 'say'
Chandigarh, April 1
Panjab University students will have to continue waiting to get a "voice" in the university Senate with Vice-Chancellor RC Sobti ruling out any such "possibility" in the near future.
Class XII student held for impersonation
Chandigarh, April 1
In a peculiar case of impersonation and forgery, a Class XII student from Barnala was today caught appearing in a BA-III exam in place of another student.
April Fool's pun on PU VC
Chandigarh, April 1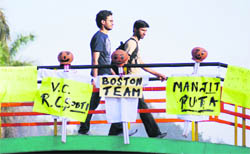 Vice-Chancellor RC Sobti, who was honoured by the President with a Padma Shri recently, became the "recipient" of a specially instituted award the "lifetime achievement award for enduring efforts in the field of befooling the entire university" on Thursday.


PU students walk past the posters that were pasted to play a prank on the VC at the Student Centre in Chandigarh on Thursday. Tribune photo: Vinay Malik
Murder of Pak national in Dubai
Indian students unhappy with sentence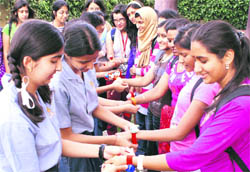 Panchkula, April 1
The death sentence should have been awarded to only those Indians who murdered the Pakistani national and the rest who had assisted in the crime should have been awarded life-term and deported to India after the completion of their term.


Students of Indian High School, Dubai, tie friendship bands to students of The Gurukul at Sector 20, Panchkula, on Thursday. Tribune photo: Nitin Mittal
Maths is Greek to CITCO officials
Chandigarh, April 1
What is it that a class X student can do better than Chandigarh Industrial and Tourism Development Corporation (CITCO) officials? It is simple mathematics!